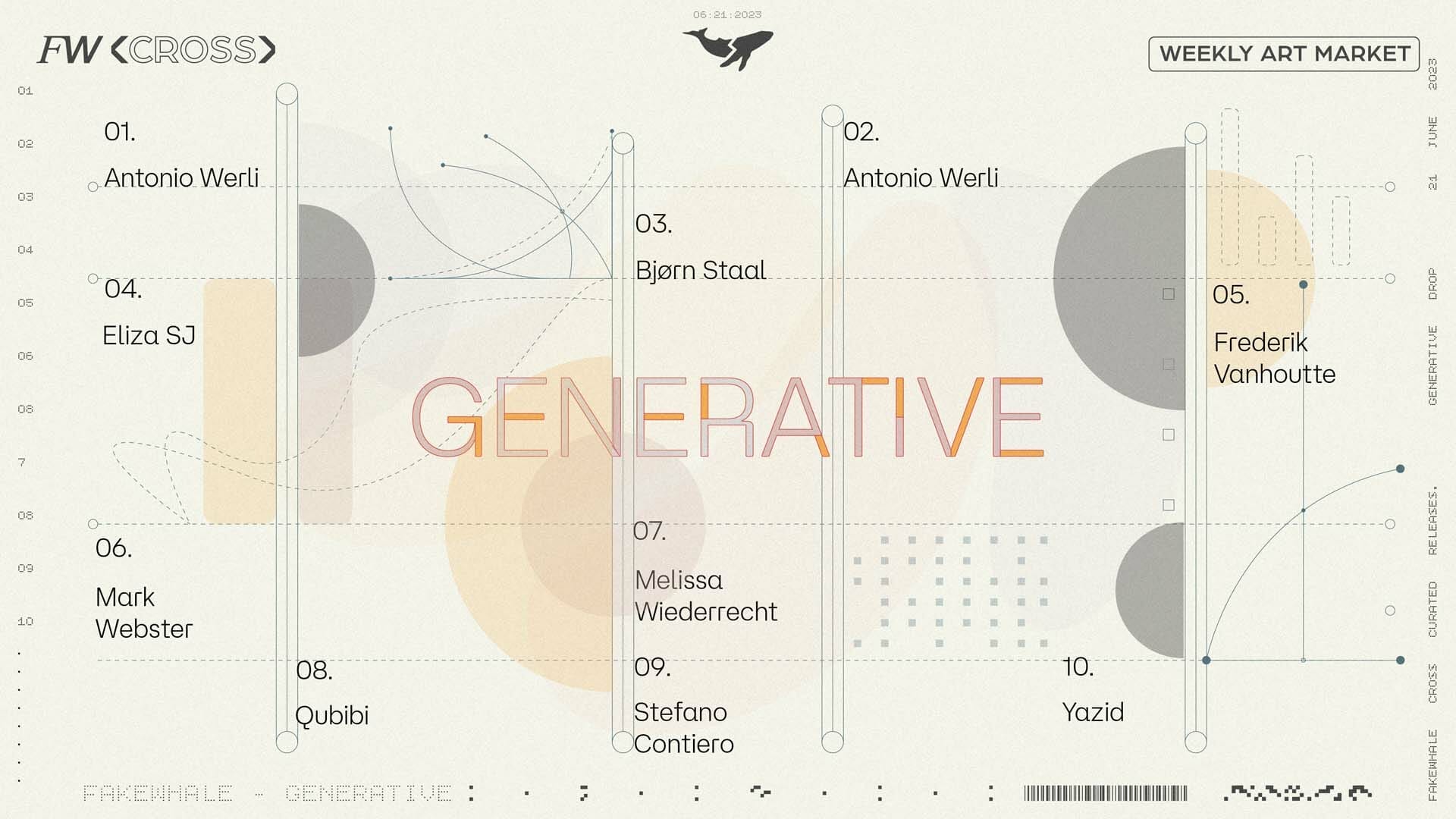 GENERATIVE FW CROSS
The Fakewhale Paradox: Fakewhale Cross Presents GENERATIVE
On June 21st, 2023 Fakewhale Cross presented GENERATIVE , an unprecedented curated release that brought together some of the most prolific generative artists including Andy Duboc, Antonio Werli, Bjørn Staal, Eliza SJ, Frederik Vanhoutte, Mark Webster, Melissa Wiederrecht, Qubibi, Stefano Contiero, and Yazid.
Introducing a sort of "Fakewhale Paradox" – through this release Fakewhale aimed to broaden the common perception on how generative art is usually presented to the market, in line with its commitment to uphold originality in all initiatives.
While generative artists typically release in long-form, a very suitable medium for the intrinsic qualities of generative art, it is also true that each artwork represents an infinite potential.
Fakewhale envisions a cross-contaminated realm where artists can thrive, seamlessly bridging the gap between digital art and its multiple declinations within the blockchain.
For this reason, it has intentionally chosen to release the artworks of this collection through a theme-free series of multiple editions.
Learn More About the Artists & the GENERATIVE Pieces, the selected artists for this release are considered to be among the most influential creators working with code:
Andy Duboc, a French visual artist, masterfully synthesizes the realms of code and visual art to create dynamic, abstract visuals.
'RGB' is a prime manifestation of his creative approach, in which he carefully tailors algorithms through HTML, JavaScript, and WebGL.
Through this piece, the ordinary viewer-artist dynamic is transcended, creating a more engaging and interactive experience: a single click or tap of the space bar allows viewers to modify the piece in their own unique manner, leading to an exploration in which perception gracefully converges with the evocative nuances of color, motion, and interactivity.
The result, is an ever-evolving dialogue between the creator, the viewer, and the artwork itself.
Antonio Werli is a French visual artist based in Buenos Aires, Argentina, who crafts surreal, minimalist, and expressionist works of art.
A literary translator and publisher for more than two decades, Antonio's path to art was marked by self-learning and exploration as he developed his practice, which combines traditional techniques such as drawing, collage, engraving, letterpress, and calligraphy, with surrealism, vanguards, and classical and tribal art.
In 2017, Antonio transitioned to a full-time art career, which led to his participation in several exhibitions and his entry into the NFT space in 2022 — A switch that saw him adopting coding as a means to further explore concepts like time, chance, desire, and metaphors.
"Study for the Cabinet of Dr. Caligari" reflects this artistic evolution: originating from the long-form generative project "Chiaroscuro," this series further explores the possibilities of depth and aleatory composition.
Each artwork, reminiscent of stained glass, vibrates with overlapping monochrome micro-textures, resulting in an ethereal atmosphere. What emerges, is a sense of balance and rhythm, where irrational spaces and hollow dimensions coexist — evoking the dream-like quality of expressionist cinema, while revealing the depth of his vision and the mastery of his craft.
An independent artist, programmer, and researcher Bjørn Staal has dedicated his career to exploring the convergences of generative art, computational design, and interactive installations, focusing on the complex dynamics between simplicity and complexity in generative algorithms.
His series, "Parent and Child (Divided)", is a testament to his recent research: inspired by Stephen Wolfram's theories on computational irreducibility, Bjørn created a system defined by a simple set of rules — a series of structures and textures unravel from this system, resulting in compositions reminiscent of military-grade satellite imagery and intricate urban architectural plans.
Despite the final output being rendered at ultra high resolution, every pixel has been carefully placed, encouraging the viewer to zoom in and experience the piece at different levels of detail.
As an artist and programmer from Montreal, Canada, and currently living in Paris, France, Eliza SJ is fascinated by how programming and algorithmic thinking shape creativity.
A self-taught programmer, her primary medium is code, ranging from web-based playgrounds to full-scale, interactive, and audiovisual installations that have gained worldwide acclaim throughout the years.
'aer' and 'lux', reflect her ongoing exploration of the mystifying world of meditative forms and light, in which she bends and blends light in a natural-looking manner to create patterns and shapes that show a balance between complexity and simplicity, the man-made and the natural.
By employing GLSL, refraction, and domain warping techniques, she invites the viewer to enter a realm where light abstractions take on tangible forms.
A radiotherapy medical physicist by day, and generative artist by night, since 2004 Frederik Vanhoutte has been creating works through coding to further expand his curiosity for physical, biological, geometric, and complex systems.
For this release, the 'Iso Boneyard' series was rendered using custom code and Processing to create high-resolution generative geometry, each piece a distinct entity within the 'isoverse'.
Born in Canada and raised in the UK, Mark Webster is a key figure within the visual and sonic arts realms, mastering the language of code to express his creative vision.
Upon graduating with a modern languages degree in 1998, he moved to France where he worked in a variety of fields within the visual and sonic arts, discovering code as a creative medium in 2005 with John Maeda. Recognizing the potential in an emerging field for artists and designers, it was precisely then that he began organizing events to promote awareness and encourage the creative coding community — and continues to do so to this day as he teaches code in art schools, in particular to graphic design undergraduates.
With custom-made software and computational and generative strategies as his main approach, he has been focused on developing a highly personal body of work since 2020.
Part of the Cosmic series, 'Mediated Memories' and 'Under Construction' embody his view of language as a visual construct and his fascination with computational and generative strategies. Both animations reveal one of the graphic modules used in the final production of Cosmic Type, created during the development process.
An American generative artist currently working out of Saudi Arabia, Melissa Wiederrecht is constantly pushing the boundaries of generative art as a medium, both technically and aesthetically.
Influences on Melissa's practice range from Jared Tarbell and Tyler Hobbs to traditional abstract artists and the richness of Islamic art and culture, with a body of work primarily exploring the intricate paradoxes between order and chaos, intention and accident, and control and randomness.
The hallmark of her pieces is their vibrant color schemes and creative fusion of blurs, textures, and linework. Her preferred artistic tools include Javascript, p5.js, and GLSL fragment shaders.
A purely generative work created with Javascript and GLSL, the 'A Wash of' series combines textures, blurs, and linework to create colorful abstract, emotive pieces.
A Japanese artist, Qubibi fuses painting with digital techniques to craft vibrant, abstract patterns each encapsulating life's experiences, frequently through the mimizu, his artistic trademark.
Qubibi's approach to generative art is more an exercise in serendipity than a methodical crafting process, where turing patterns emerging from his coding explorations create a sense of natural morphogenesis. An art, defined by the process.
"gathering leftovers from yesterday and stir-frying them vigorously with a strong seasoning", in 'ma6tKk' and 'mr6vXp', Qubibi blends "leftovers" within a hypnotic interplay of hues, textures and patterns.
Stefano Contiero is an Italian-Dominican self-taught artist born in Bassano del Grappa (IT).
His art is driven by his subconscious, which becomes one with the artwork in the process — Art, that can be considered as a dialog between his inner self, the laws of life and chance in his quest for self-discovery. As a result of the continuous feedback loop between his subconscious and technology, Stefano explores self-reflection and expression through generative art.
In the 'Abbondanza' series, Stefano creates a symphony of colors, showcasing the ecstasy of existence and the infinite abundance of life.
Originally from Brunei, Yazid's transition into a digital artist began with a fascination with using code and systems to create meaningful, experimental creations.
His work comprises abstract expressions and conceptual explorations that challenge the status quo, hard edge minimalism that displays precision and simplicity, as well as digitally textured creations that create a tangible connection with the viewer.
'Split', represents the myriad ways that we are divided every single day.
As a result of weeks spent refining the polygon clipping algorithm, 'Split' is a slowly evolving piece that changes every day: using JavaScript and SVG, Yazid has created an interactive, real-time piece that allows viewers to experience the artwork's evolution.
Reflecting its minimalist aesthetic, the underlying code is equally succinct, making 'Split' a unique amalgamation of simplicity and complexity.