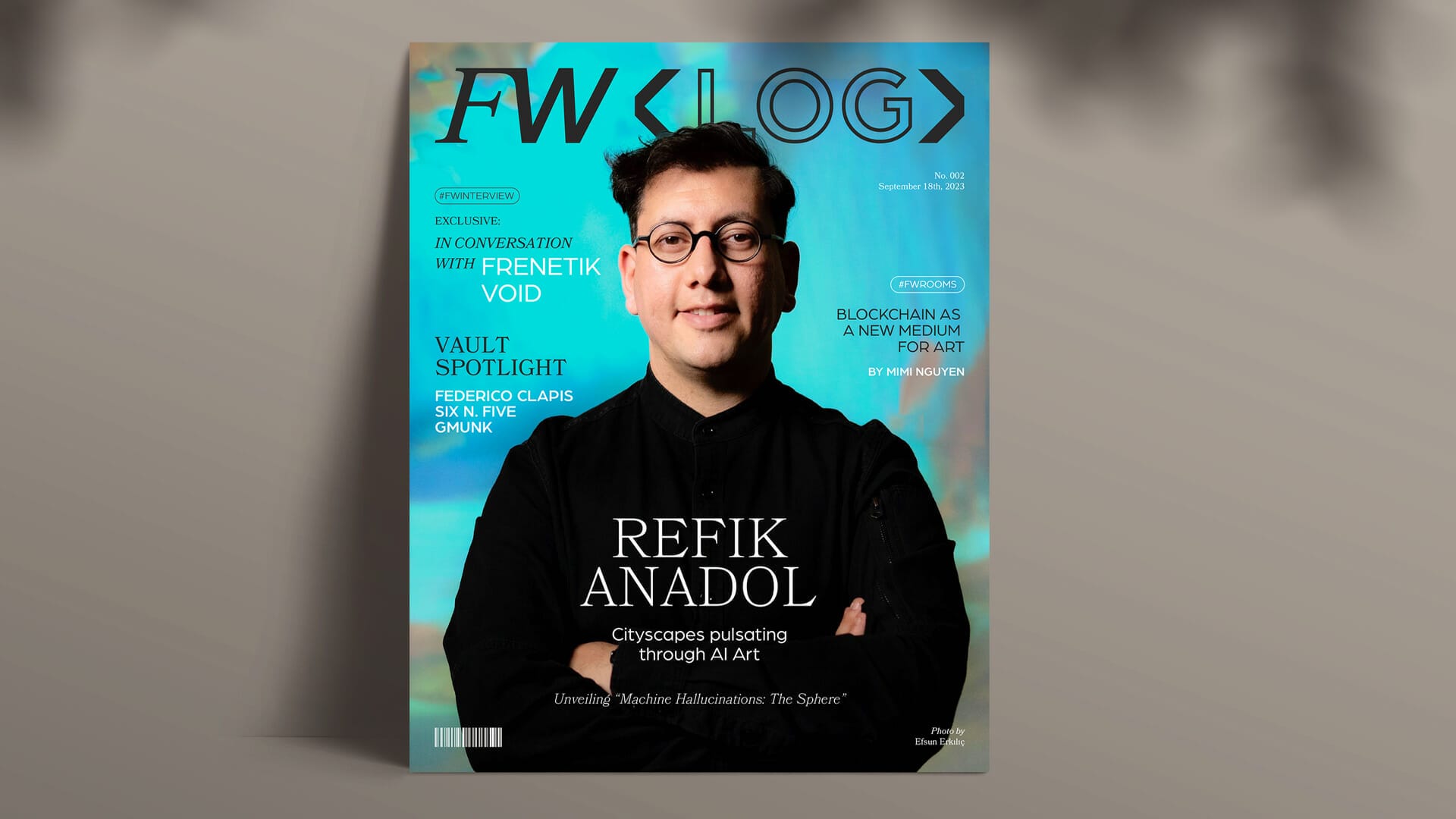 FW LOG: Editorial Feed No. 002
The FW Editorial Feed No. 002, traces the relationship between cutting-edge technology and artistic breakthroughs: from Refik Anadol's AI-empowered depictions on the Las Vegas Sphere, to Frenetik Void's 3D works of art, to the creations of Six N. Five, GMUNK, and Federico Clapis, and Mimi Nguyen's insightful analysis of the "Proof of X" exhibition.

Art has been our age-old medium to express the mysteries of existence, dreams, and collective memories. But, when these memories transform into digital entities, stored in the mind of a machine, the line between consciousness and computation blurs.

Refik Anadol's "Machine Hallucinations: The Sphere" stands boldly at this intersection.

Displayed upon the Las Vegas Sphere, Anadol paints cityscapes pulsating with AI-generated dreams, hinting at a shared future of digital memories.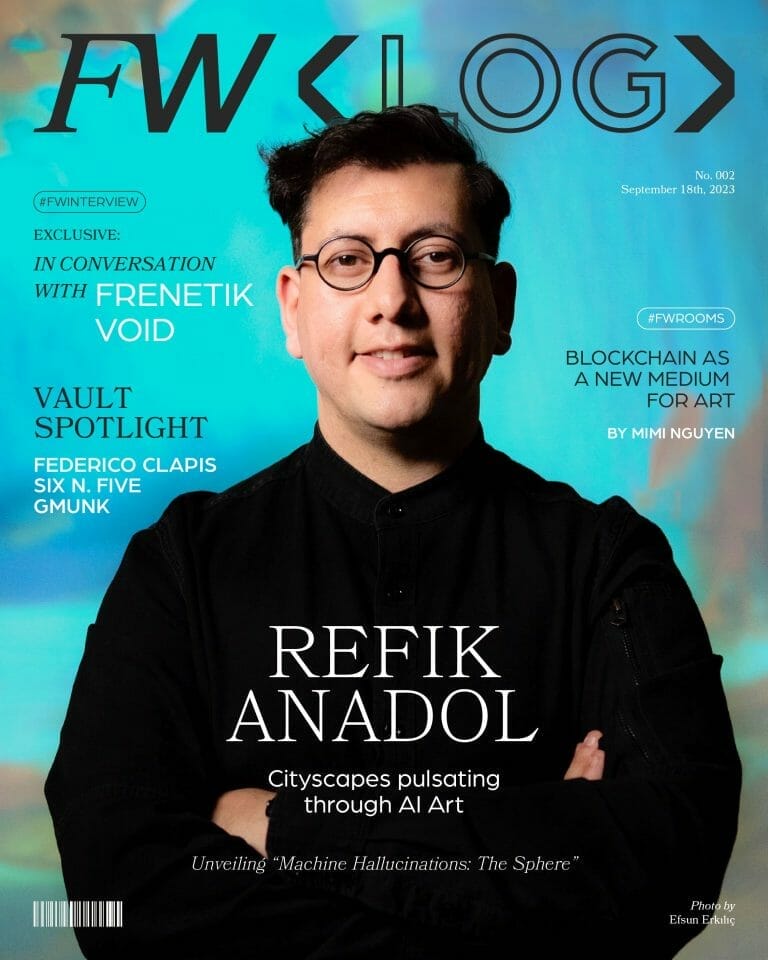 To Anadol, data isn't just cold binary; it's the vibrant, ever-shifting tapestry of our collective memories. In a time where individual privacy is fading and our personal narratives risk being overwritten, Anadol sees the cityscape of our collective memory as an anchor — a universal language that unites humanity.

Now, the Las Vegas Sphere, a world-first immersive destination, transforms into a breathtaking canvas for his art; the largest AI work of art to date. A dynamic canvas where AI's hallucinations come alive, as every curve, and every corner reverberates with the rhythm of data, algorithms, and human experiences.

Across three chapters, in "Machine Hallucinations: Space", Anadol pays tribute to our cosmic fascination, drawing from a vast NASA/JPL archive to paint a universe in motion. "Machina Hallucinations: Nature" delves into Earth's beauty, converting 300 million photos into a living tableau, crowned by the "Winds of Las Vegas". Meanwhile, "Quantum memories", a venture with Google's AI Quantum Research Team, marries architecture and quantum musings, inviting us into a realm where nature and digital memory intertwine.

A U2 concert on September 29th will amplify the immersive experience of the work, open to view until its closing on December 31st, 2023.
The second issue of the FW Editorial Feed highlights an exclusive interview: Frenetik Void in conversation with Fakewhale.
Frenetik Void is an innovative Argentinian 3D artist who crafts a vivid tableau of romantic post-humans and enigmatic creatures set against the backdrop of stark, inhospitable environments. 

In the conversation that follows, Fakewhale explores the nuances of his singular artistic process, uncovering the inspiration behind his distinctive blend of surrealism, grotesqueness, and digital finesse.
Transitioning to the recent FW ROOMS publications, an insightful piece penned by ROOMS author Mimi Nguyen captivatingly delves into the intersection of innovation and creativity, centering on the "Proof of X" exhibition.

Unfolding in Tokyo in June 2023, this exhibition stands signaled the transformative influence of blockchain in the realm of art: curated by Takase Toshi from the Japan Generative Art Foundation, the showcase unravels the depths of uncharted potential inherent to NFTs and blockchain, framing them as pioneering tools for artistic endeavor. Attracting a lineup of globally renowned artists, it further emphasizes the intricate philosophical and creative nuances intertwined with blockchain technology.
Lastly, the Fakewhale Vault Spotlight, highlighting the vault works of Six N. Five, GMUNK and Federico Clapis.
LOTS n6 (2017) by Six N. Five

Minted in the Fakewhale Vault 37 weeks ago.

"Among the grains of sand lies a world full of personal significance. Each grain is unique, formed from minerals and gems that have been shaped and polished by the forces of nature. This piece, titled LOTS n6, or 'Living on the Sand', captures the beauty of nature and the sense of discovery that comes with it. As I moved from Argentina to Barcelona, seeking new adventures and challenges, the beach became a source of inspiration and a symbol of the precious discoveries to come. This composition, made with a new mineral, represents the valuable experiences and memories that will stay with me for years to come."
untitled by Federico Clapis

Minted in the Fakewhale Vault 32 weeks ago.

Drawing from Clapis' foundational ethos, this work is a manifestation of Post-Conceptual Art, epitomizing the interplay between contemporary art and cutting-edge world of NFTs. As the piece bridges the distance between the physical and digital, it becomes more than a visual experience—it stands as a testament to his belief in technology's dual role as both a tribute and transformative tool. His work exemplifies his revolutionary vision, suggesting that art's future isn't just about creation, but a paradigm shift in its consumption and market dynamics.
Cirrostratus by GMUNK

Minted in the Fakewhale Vault 20 weeks ago.

"The way the breath finds the mouth, the way the poison finds its course, the way a compass becomes a cross, the way ascension, into the blindness of the clouds, reveals an immeasurable truth, about what we are."