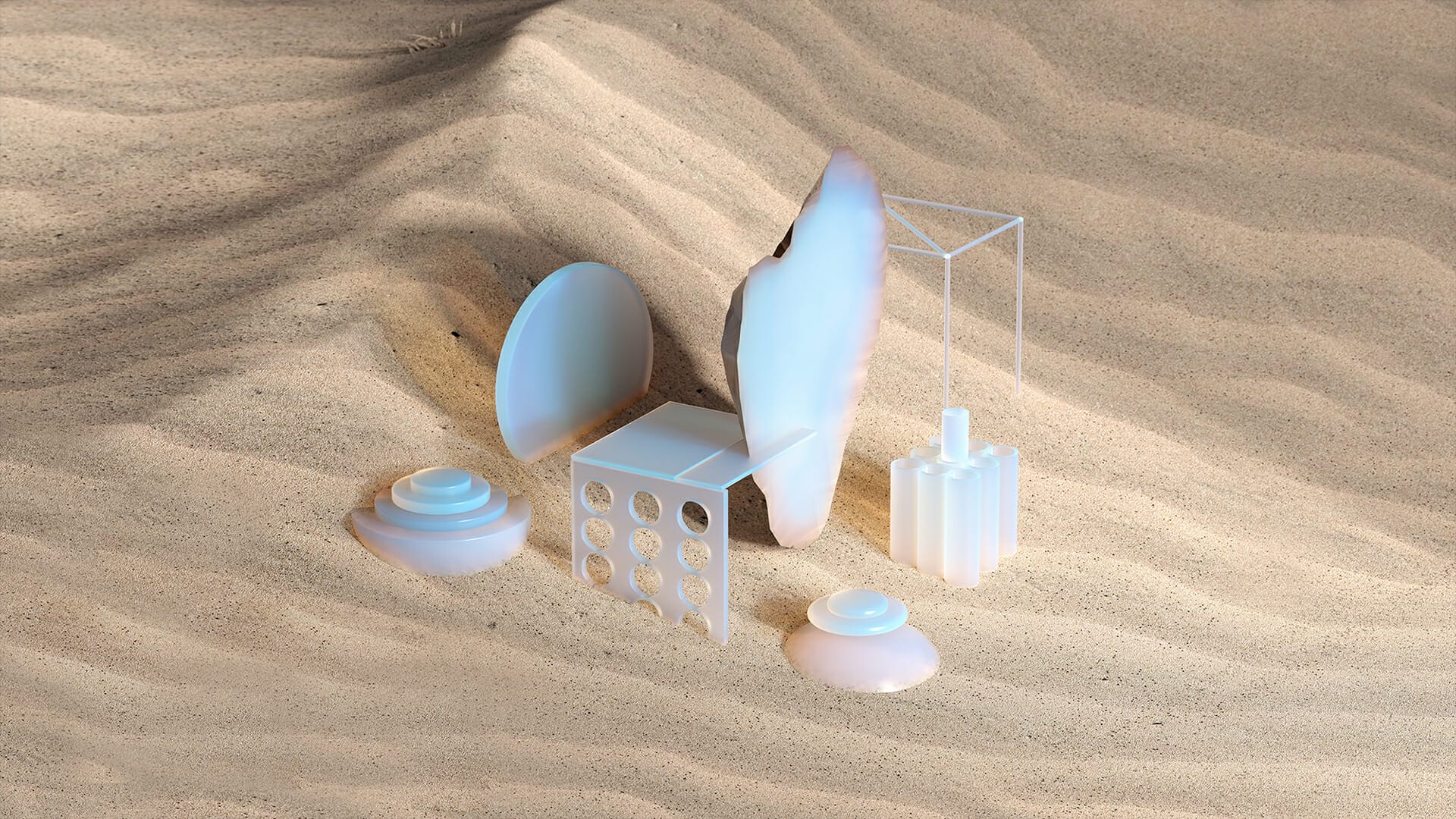 Six N. Five: A Unique Fusion of Architecture, Nature & Design
Six N. Five is a Barcelona-based digital art studio founded by Argentinian designer and artist Ezequiel Pini that has been at the forefront of digital art production since its inception in 2014.
With his signature clean, modern aesthetic, Pini's work creates imaginative, dreamlike worlds that stand out for their originality and purity of results.
Six N. Five: The Genesis of A Novel Aesthetic
An award-winning Argentinian designer and artist, Six N. Five 's artistic roots go back to his childhood, when he began helping his father create visuals for his gym, stimulating his creative side.
The sense of satisfaction that he felt while bringing his ideas to life prompted him to dive deeper into the field of graphic design, which eventually led him to pursue his studies at the University of Buenos Aires, honing his skills and enhancing his knowledge of design; during this time he also worked in related fields such as web programming, animation, and design by day, while attending college in the evenings.
While Pini's vision went beyond the confines of conventional design and the boundaries of the physical, it did not take long before he began aspiring to forge a new path in the world of art by investigating the potential of digital mediums — An exploration that took him to the realms of architecture, landscape design, and fashion: a triptych of disciplines which could only coalesce in the boundless canvas of the digital realm.
From that point onward, he has focused on creating beyond the limitations of the real world, utilizing the freedom inherent in the digital world to create parallel realities – ensuring that the aesthetic and conceptual aspects of his work always come first.
During this time, Six N. Five was conceived: born in 2014 as a symbol of the moment in which his workday ended and his personal time began, at 06:05 pm, when he was free to concentrate on his art and ideas. The ultimate manifestation of his need to express his very own vision and language.
In November 2020 Six N. Five further expanded the horizons of digital art by embracing blockchain technology with "Solo"; a work that marked the inception of the Escapism style, a fusion of realism and surrealism that bends the arc of reality to envisage ethereal, dreamlike realms. 
Meditative, Utopian & Surreal Worlds
As a result of his insatiable curiosity and desire to innovate, Pini is continuously evolving his creative style: from his early love of still life photography, to his later exploration of architecture, space, landscape, and physical and digital objects.
His inspirations are eclectic, ranging from surrealist masters like Salvador Dalí and René Magritte to the likes of Claude Monet and Edward Hopper, who demonstrated mastery over color and light. Yet, his most potent inspiration comes from his personal experiences and observations of the world, where concerns like the relativity of time, the role of stress, human excesses, and their coexistence inform his work, exposing our realities and raising critical questions about them at the same time. The moments spent running, swimming, and unplugging, especially among nature also inspire his creations, as these activities clear his mind and stimulate fresh ideas allowing for them to flow unrestrictedly throughout the creative process.
But more than anything, following his own path, listening to his intuition, and pursuing his desires have always been of paramount importance, maintaining a curious nature, driven to explore and possibly create what he envisions as the next trend, rather than simply conforming to existing ones.
Ultimately, Six N. Five's creative approach is centered around CGI, which combines a diverse array of elements and mediums; the majority of the studio's masterpieces use CGI as a tool for exploring imaginary spaces and animate stories, challenging traditional storytelling methods, including "The Rebels: Lunch Boxes" for instance, that fuses architecture and design into a living, breathing entity in a riveting digital narrative.
It is this dexterity in blurring boundaries between the real and the surreal that forms the core of Six N. Five's ethos, where a carefully curated blend of landscapes and objects creates a portal into a world beyond the ordinary, unfolding as an open invitation to the viewer to step into these surreal, utopian worlds.
This is exemplified in Pini's "Universe Edge" – an architectural dream brought to life through meticulous renderings, otherworldly light, imaginative compositions, and an avant-garde approach. By reshaping familiar landscapes into something unfamiliar, viewers are thus challenged to re-evaluate their perception of space.
Another remarkable piece, "Pistachio" continues this exploration by further blurring the lines between nature and architecture. Here, the color green is not just a hue, but a medium to instill serenity; a tranquil depiction of coexistence that makes one ponder the harmonious union between the natural and built environment.  
Beyond the Ordinary: Six N. Five 's Pursuit of the 'What If'
The studio among the most recognized digital creators of the moment. Important artistic milestones also include several exhibitions, both physical and digital, as well as a recent work on the Microsoft Windows 11 and Microsoft Surface wallpaper, one of the most important collaborations with this brand over the past year.
Through meticulous renderings of landscapes and objects, Six N. Five creates a window into a world where limits are transcended. Nonetheless, his dedication to his craft and passion for exploration continue to guide his path, pushing him to continue to evolve, experiment, and excite.
Only by harnessing our imagination can we envision endless possibilities, beginning with a simple yet powerful question: what if?