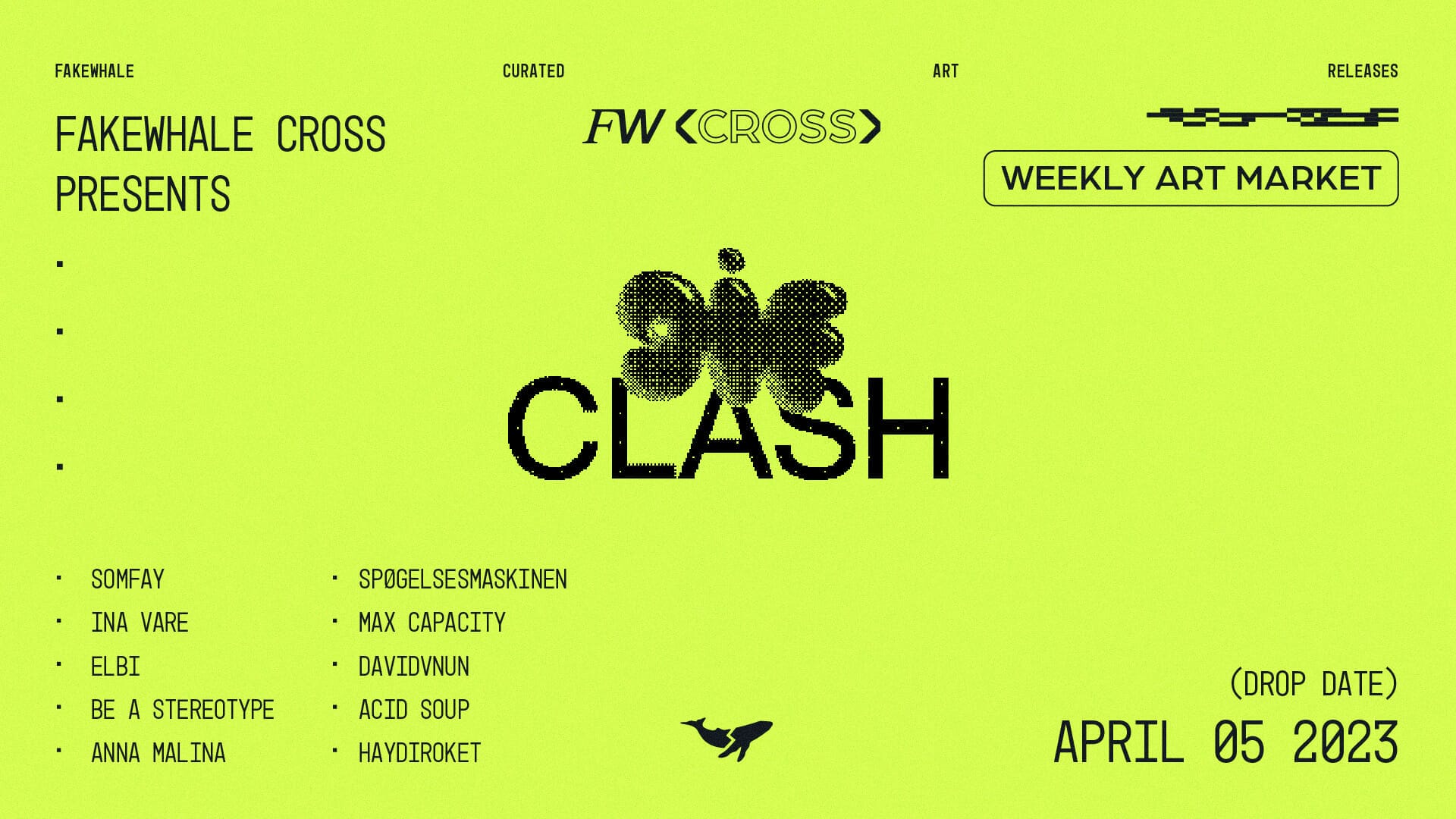 GIF CLASH | FW CROSS
A GIF-Centric Release: Fakewhale Cross presents GIF CLASH
On Wednesday, April 5th, Fakewhale Cross presented GIF CLASH, a curated release featuring Somfay, Acid Soup, Spøgelsesmaskinen, INA VARE, elbi, BE A STEREOTYPE, Max Capacity, Davidvnun, Anna Malina and Haydiroket.
An overview of the AB.JPEG artists and their works:
A Canadian music producer, DJ and visual artist, Somfay creates expressive psychedelic amalgams of past, present, and future in the form of lucid dreams and synesthesia that shine through in "Deus Detox [Kevlar Heart]"
Hailing from Ukraine, Acid Soup is a duo that specializes in crafting mind-bending psychedelic visuals, liquid live shows and glitch art here on full display within a hypnotic blend of analog video visuals and homemade liquid light — "Liquid eyes".
From digital designer to experimenting with the NFT medium, Spøgelsesmaskinen has established himself as an outlet for dreams, atmospheres and 3D experiments, with every frame of "cover uncover" harkening back to the early days of the internet.
A glitch and analog video artist, INA's work combines personal themes with retro aesthetics to create nostalgic visuals celebrating noise, error and glitch, as within "ACIDIC INA", a piece that is both surreal yet relatable, as well as thought-provoking.
An analog video artist from Brazil, elbi pilots 90s hardware through web3 to create "think.repeat", a piece that purposely employs after effects, edirol v4, mismatcher01 and crt rescanned techniques to question the viewer's perspective.
A Brazilian 3D artist, BE A STEREOTYPE explores the intersection between technology, humanity and nature as portrayed in "Silicon Age", where an old technological relic leads viewers to question our relationship with technology and its role in shaping society.
A GIF pioneer, Max incorporates glitch art elements, pixelation and digital artifacts to create a futuristic, otherworldly aesthetic challenging the traditional notions of video art, exemplified in "HEXENSABBAT" with an animated GIF created through Analog VHS video glitch.
The computer his temple and cartoons his doctrine, Davidvnun is a Mexico-based 3D animator and artist whose work combines intricate motion and bold colors, captured within "😈LMAO😈" in a way that is both visually striking and emotionally engaging.
An experimental artist, Anna is passionate about self-portraiture and appropriated images that inform her distinctive style exemplified within "Gravität", a collage that touches on themes of materiality, failures, and absences.
A versatile GIF artist and curator, Haydiroket employs collage animation, glitch aesthetics, pixel art and analog video: elements that come together in "SUPER ART GALLERY ✓", showcasing a signature style heavily influenced by early gaming consoles aesthetics.