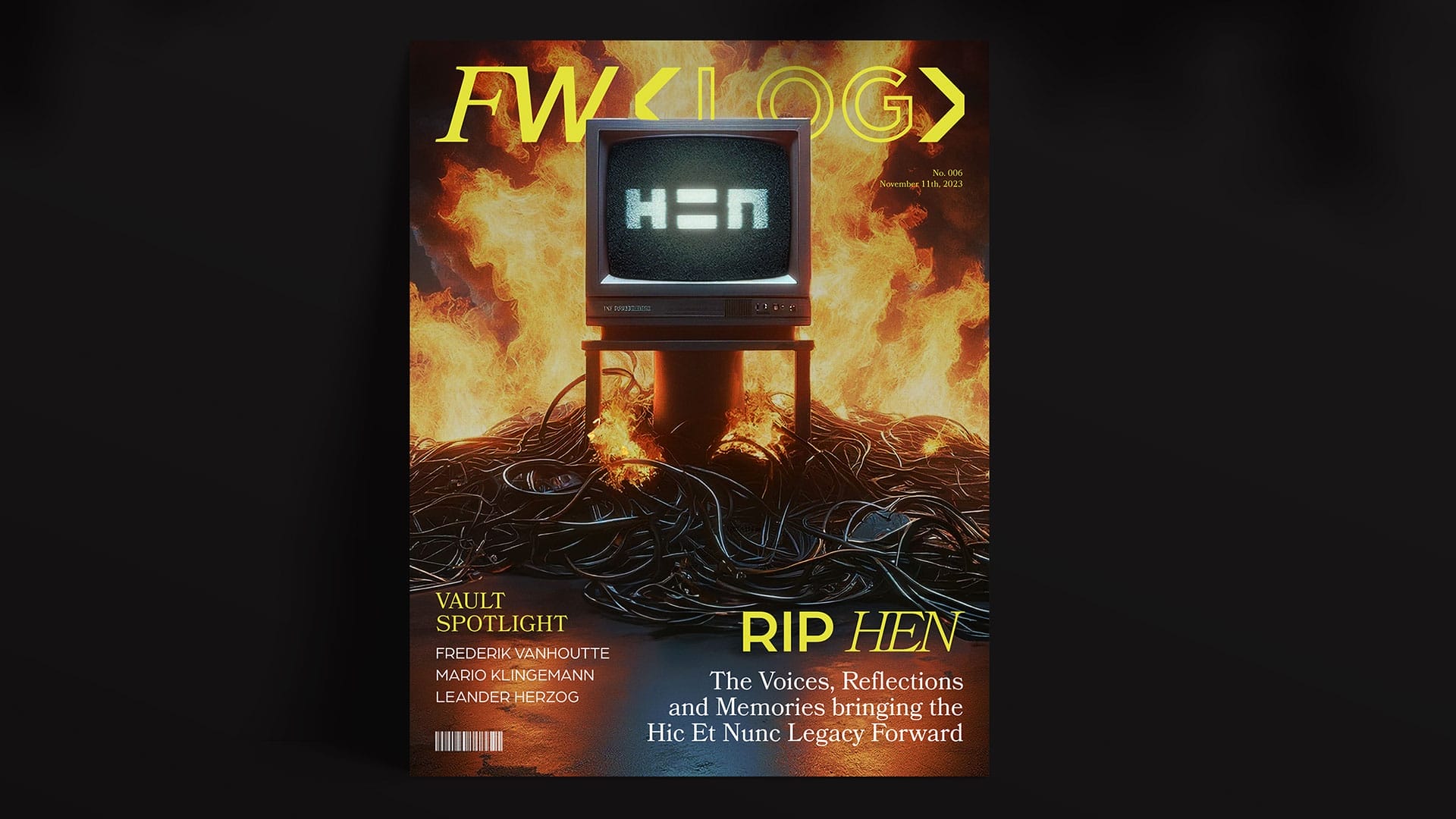 FW LOG: Editorial Feed No. 006
Introducing FW Editorial Feed No. 006, where we revisit the genesis, journey and legacy of Hic et Nunc (HEN).

Anchored by our RIP HEN Commemorative Cover, this edition is a celebration of its collaborative genius and a shared vision that left a lasting imprint on the digital art landscape.

The articles within unfurl the stories of HEN visionaries — the innovative thinkers and artists whose dedication redefined the realms of artistic collaboration and ownership, including Mario Klingemann, Diane Drubay, Poppel, Haydiroket, James Paterson and Djangobits. As well as curated Vault Spotlight featuring the distinctive works of Mario Klingemann, Leander Herzog, and Frederik Vanhoutte.

Each narrative contributes to the rich tapestry of HEN, reflecting a community committed to openness, sustainability, and the spirit of experimentation.
The essence of Hic et Nunc (HEN) unfolds in a commemorative narrative that charts its emergence as a digital art testing ground, its trials, and its undiminished influence on the broader art world. It paints a portrait of innovation, where pioneers like Mario Klingemann and others laid the groundwork for a new ethos in art and technology — each of their stories, imbued with community spirit and a quest for sustainability. A narrative that captures HEN's role in forging a path for artists to collaborate, create, and share in an open digital economy, leaving a legacy that resonates powerfully in the art community today.
To weave the full tapestry of Hic et Nunc's (HEN) story, our journey extends past mere commemoration into a realm of deep conversation. We've engaged in dialogues rich with insights, bringing forth the voices of those architects whose visions and contributions gave life to the essence of HEN.

Recognizing the depth of their stories and the richness of their insights, we've curated two extensive articles featuring in-depth interviews that spotlight the lived experiences and foresight of HEN's core contributors.

In the first feature, we present the expansive reflections of Mario Klingemann (Quasimondo), Diane Drubay and James Paterson (Presstube), unveiling the intricate layers of their involvement with HEN and their perspectives on its legacy.
Following this, we step into the creative realms of Haydiroket, Poppel, and Djangobits, whose artistic journeys are intertwined with the fabric of HEN. Their narratives offer a window into the day-to-day life of the platform, the community dynamics, and the shared vision that propelled HEN forward.
This week's Fakewhale Vault Spotlight features the vault works of Mario Klingemann, Leander Herzog, and Frederik Vanhoutte.
Emoji, Transhanced (2017) by Mario Klingemann

"One of my early examples of a neural technique I call "Transhancement", created in October 2017. The custom model that I had trained on scanning electron microscopy data is attempting to magnify and "enhance" a tiny emoji bitmap which in the process gets transformed into something very different as the model keeps adding details that are not present originally."

Minted in the Fakewhale Vault 55 weeks ago.
Agglo by Leander Herzog

Triptych from the "Agglo" generative series minted in the Fakewhale Vault 70 weeks ago.