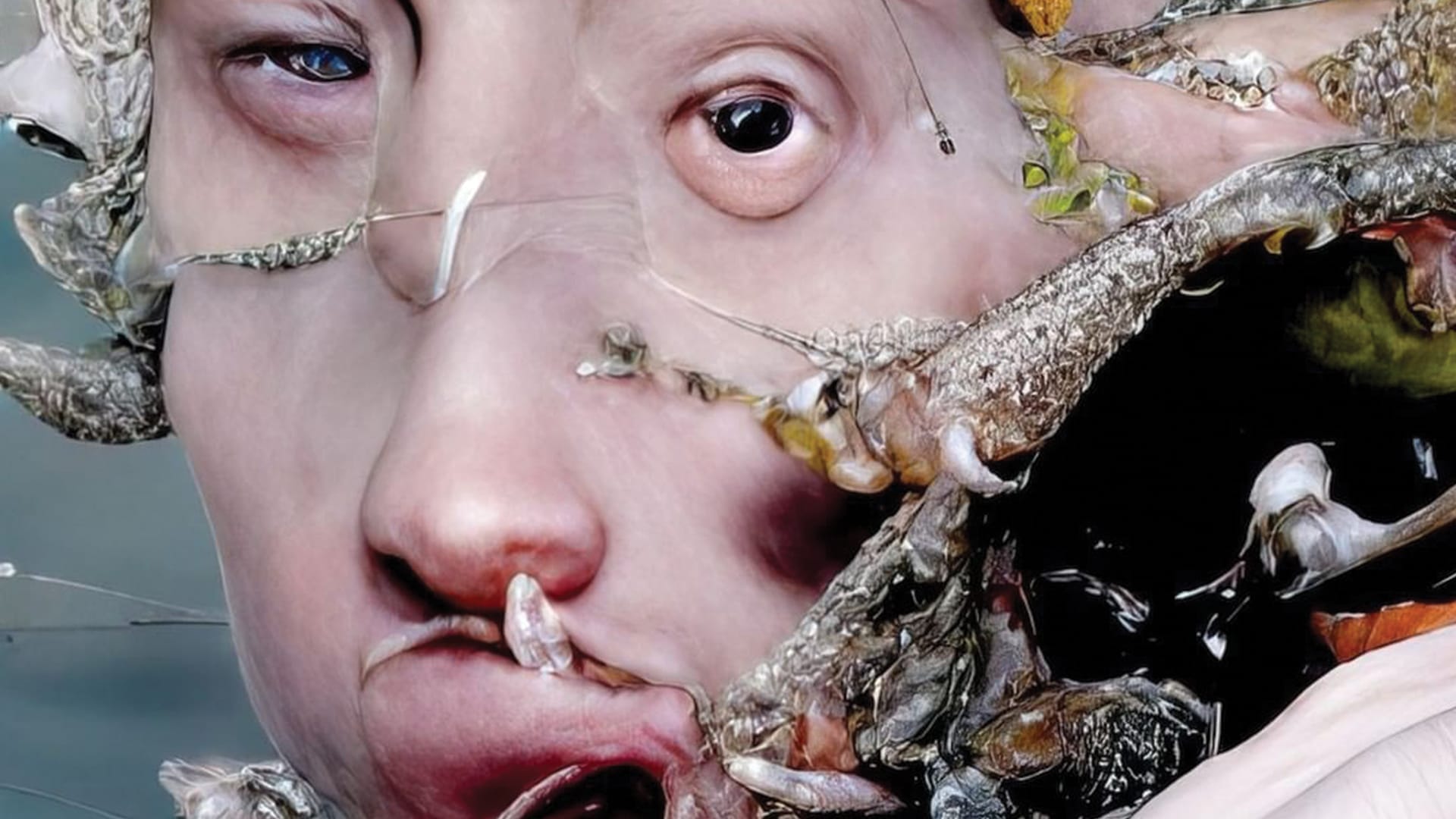 The Wrong Biennale is Reshaping the Experience of Art
As digital spaces increasingly permeate our lives, the landscape of contemporary art too has witnessed a significant transformation, shifting from the confines of traditional gallery spaces to expansive digital platforms. This new arena is where The Wrong Biennale stands out, reflecting this evolution and actively shaping the narrative of what artistic expression in the digital age can be.

In this context, Art, in particular after the global crisis of last years, further evolved from a passive aesthetic experience to an active conduit of hope and resilience.

Accordingly, The Wrong Biennale has embraced these changes, signaling a new chapter where art is unrestrained by physical limitations and resonates across digital networks, especially when it comes to its adept fusion of art with technology.

This union serves a twofold purpose: it amplifies the outreach of the showcased artworks and provides artists with a boundless creative space, unhindered by tangible confines. In this way, artists are able to share their innovations with a global audience, as well as explore groundbreaking expressive techniques, reinforcing art's global appeal.

Leading this movement is David Quiles Guilló, the visionary founder of The Wrong Biennale. In the subsequent sections, we will delve into his perspective on the Biennale's inception and its contributions to the broader art world.
Beyond Walls: The Wrong Biennale's Vision of Unlimited Expression
The Wrong Biennale, founded in 2013 by David Quiles Guilló, is not just an art biennial; it's an experience that breaks the barriers of conventional art showcases. Operating under the banner of The Wrong Studio, this independent, multicultural, decentralized, and collaborative platform has established itself as an epitome of how art evolves in the digital age.

Over the years, The Wrong Biennale has emerged as a colossal international community and a touchstone in the world of art. Its success is evinced by its associations with renowned curators, artists, and institutions from around the globe, and by accolades such as the SOIS Cultura 2019 and the honorific mention at the European Commission S+T+ARTS 2020 prize.

Its expansive reach is further emphasized by the sheer volume of participation it has garnered. Since its inception, The Wrong Biennale has displayed the visionary works of over ten thousand artists and curators, curated across an impressive six hundred pavilions, embassies, and partnering institutions.

Currently, art enthusiasts from all walks of life can immerse themselves in the 6th edition of this incredible biennale, running from November 1st, 2023, to March 1st, 2024; an edition offering a diverse array of pavilions, each with its unique aesthetic and motifs.
Inside the Pavillions: David Quiles Guilló on The Wrong Biennale
As contemporary art undergoes an unparalleled evolution, David Quiles Guilló stands at the forefront of this change as a representative of digital culture. As the founder of the renowned arts organization, ROJO®, his contributions have touched global art collaborations for years. With The Wrong Biennale, Quiles Guilló creates a digital space where art is freed from traditional boundaries, challenging perceptions and opening new doors.

In the following conversation with Quiles Guilló, he not only walks us through the intricate fabric of The Wrong Biennale but also spotlights ten avant-garde artists from the current edition who are making a difference.

Fakewhale: The Wrong Biennale has been a groundbreaking event since its inception in 2013. Could you walk us through its birth and evolution, especially its unique decentralized structure and its impact on the global artistic scene?

Quiles Guilló: The goal was to bring together curators and artists, and showcase all art being experienced exclusively online, and use the limitless advantages of the internet to create a never seen before art event that challenged the art establishment limitations. The first edition almost didn't happen. However, the enthusiasm from participating artists, excited about The Wrong, kept me going. Their encouragement pushed me to make it a reality.

The Wrong "again," was the second edition, and followed the initial wave in the digital art underground. I committed to expanding and solidifying the event with extended promotion, and announcing three more dates up to 2022.

The third edition is a heavenly memory of incredible work and pavilions. It drew more participants and press attention. A highlight was a large feature in The New York Times, which fueled our belief that we were doing something extraordinary.

The fourth edition marked a significant research investment, introducing a new format bridging the physical and digital realms. An internet-less router showcased pavilions globally through partnerships with local embassies and the support of local goverment and the European Commission.

The quieter but amazing fifth edition, impacted severely by Covid, featured fewer embassies but saw a surge in artist and curator participation. Wrapped up a wonderful exhibition at Centre Pompidou Paris. Now in its ongoing sixth edition, The Wrong Biennale has evolved beyond digital art. It now explores diverse ideas and integrates a wider range of disciplines. I invite you to check it out and share your thoughts: https://thewrong.org.

In the beginning, I had doubts about a decentralized open format for The Wrong Biennale—where curators and artists could join on their own terms. I feared it might become chaotic, but it turned out to be incredibly enriching and entertaining. The concept of having not just one theme imposed by curator but multiple curators contributing their unique ongoing concepts and artist selections to the same event was unheard of at the time and remains uncommon today, even after a decade. Yet, this format has proven to be the most inclusive and diverse, constantly pushing boundaries. I believe this is what truly sets The Wrong apart from any other biennial around the world.

Organising such a distinctive biennale has provided opportunities for curators and artists to think, test, and produce new ideas. While the first edition was seen as vast and boundless, current editions showcase ten times more works and artists. Reviews now focus not on size but on content.

The Wrong challenges the many preconceived unspoken parameters and gated doors of the art world, wanting to complement, bridge the gap and expose the many lacks of the establishment. While we're running a different race, we do reach the same destination with never seen before volume of outcome. The Wrong is about the art, the artists and the curators, as much as it is about openness, inclusivity, diversity, and generosity.

Ultimately, The Wrong Biennale stands as a significant effort fueled by the generosity of hundreds of curators and thousands of artists. It's not just about the artwork, selection, ideas, and settings, but how The Wrong is built every two years—exclusively based on everyone playing by the same rules, collaboration processes, and trust. Since 2013, over ten thousand artists, curators, and institutions have joined The Wrong Biennale, creating a remarkable collaborative legacy. I believe this is what sets us apart from the rest.
Fakewhale: Bridging the digital with the physical, The Wrong Biennale crafts a unique dialect of artistic discourse. How do the intersections of online and offline spaces, especially through pavilions and embassies, redefine what 'exhibition' means in the 21st century?

Quiles Guilló: While The Wrong Biennale was born as an online exhibition, it took few weeks for participant humans to suggest and organise events and IRL exhibitions were to meet other humans. Embassies were born.

There are two parallel realities ongoing as we read this, the online where you are reading this text, and the other side of the screen, where you are physically understanding the text you are reading. These two realities may tend to differ in the storyline, sometimes a lot, sometimes just details.

Instead of being confined to physical locations, some exhibitions in The Wrong also happen both online and in real life. Pavilions and embassies act as connectors, letting art be shown virtually but also in specific places, as both experiences are different but complementary. This new definition of exhibition breaks the old idea of a temporary, local, limited display. It becomes a more flexible and inclusive experience, involving different curators and voices. The digital side opens up ways for people to interact with art globally, going beyond geographical limits.

The world has grown harsh, distrustful and overwhelming, the art may be a reflection of the world, in general or individually, but I believe it still aims to be a point of connection to others, and to ourselves.
Fakewhale: "Instant radical inclusion" seems to be an oasis against the backdrop of traditional art's often exclusive realms. What does this ethos mean for The Wrong Biennale, and how does it challenge and reconstruct the narrative of conventional art avenues?

Quiles Guilló: I remember telling two young curators of the open pavilion to let in everyone who wanted to join and show work, and somehow they were telling me that we had to disguise it, like it was not ok or professional. You have to choose, they said at the time. But why choose if you have room for everyone? Having open doors for curators to organise their projects and group shows just brought more talent in.

It's like a costume party, and you decide to let all costumes join in. It surely becomes a great party. The Wrong Biennale is a global art party of curators, artists and art surfers. Everyone is welcome, as long as they know what kind of party they are attending, this is why The Wrong has soft guidelines to join. While most of the conventional art avenues and venues are limited by curatorship, location and resources like money, physical space or both, The Wrong is free from these limitations.
Fakewhale: Collaboration is more than just a method—it's a philosophy for The Wrong Biennale. How does this shared spirit sculpt the experience for participants, and what transformative waves does it send across the digital art ecosystem?

Quiles Guilló: Right from the start, The Wrong sets a minimum number of participants for each pavilion to encourage curators to make new connections. We provided open calls and guidelines well in advance and during the event, allowing any artist to showcase their work to curators open and willing to engage with them. The main goal of The Wrong is to create a shared space for artists and curators to work together, setting flexible terms to encourage collaboration and the development of unique exhibitions and projects, which we proudly showcase in each edition.

The Wrong Biennale is the antithesis of conventional art events and I believe it is complementary. The Wrong is a very much needed global platform that acts as as an open door for the underrepresented, the upcoming and the young. The Wrong serves as a playground for newcomers and a healthy practice for experienced curators and artists to test ideas, build connections, and celebrate a sense of community. In times marked by wars and ideological conflicts, finding common ground and sharing talents becomes a meaningful way to move beyond differences and progress together based on what unites us.
Fakewhale: As we stand at the crossroads of the digital and physical, looking forward, where do you see the trajectory of The Wrong Biennale headed? How will it continue to pioneer the exploration of this blended frontier?

Quiles Guilló:The Wrong Biennale aims to form partnerships with cultural institutions and art universities, forging strong alliances to explore alternative and complementary approaches. The goal is to continuously advocate for a Biennale that is free, accessible, sustainable, and collaborative—a universal ecosystem where artists and curators come together every two years to foster new connections and showcase their work. The Wrong Biennale remains committed to promoting creativity, openness, diversity, inclusion, and, above all, positivity.
Fakewhale: The curtain rose on the 6th edition of The Wrong Biennale on November 1st, 2023. Can you unfold the narrative of this edition, its inspirations, challenges, and the narrative it aims to weave?

Quiles Guilló: The narratives within The Wrong Biennale are as diverse as its pavilions. Artists and curators from across the globe contribute to this massive collective event that transcends borders and cultures. The website, condensed into a single page, showcases an abundance of generosity, talent, and trust. Countless narratives and ideas are just one click away, creating a rich tapestry of stories.

The Wrong Biennale remains open to new pavilions and embassies until its closing day on March 1st, 2024. If you've just discovered The Wrong and have an ongoing exhibition or a curated group show planned, whether online or not, you can visit https://thewrong.org/open-call, follow the guidelines, and submit your proposal to be featured.
Fakewhale: With the multitude of pavilions and artists showcasing their work, could you spotlight 10 artists from this edition you see as the avant-garde of digital artistry? Could you briefly highlight their contributions and the essence that sets them apart?

Quiles Guilló: I extend an invitation to everyone to explore The Wrong and immerse themselves in the diverse pavilions, each holding its unique universe of ideas, artists, techniques, and outcomes. For those who prefer a more measured approach, follow The Wrong Biennale on Instagram where I carefully curate a daily showcase, allowing you to savor the seemingly infinite content one pavilion at a time. 
Kim Asendorf - NULL∕BYTE∕INJECTION - The Wrong Biennale 2023/24
In Conclusion
The Wrong Biennale, conceptualized by David Quiles Guilló, emerges as an emblematic force in the dynamic realm of contemporary art. It is not merely a testament to art's evolution but also exemplifies its resilient spirit in the face of rapid technological advancements.

For ages, art has mirrored the intricacies of society, reflecting our hopes, dreams, and challenges. Today, as the world grapples with significant transformations, art assumes an even more potent role, forging connections, fostering dialogue, and serving as a touchstone for collective introspection. The Wrong Biennale accentuates this renewed role, underscoring the idea that while art's canvas might expand, its core remains deeply intertwined with our shared human experience.

By fervently advocating for inclusivity and novel innovations, The Wrong Biennale offers more than just a visual spectacle; it constructs a dynamic narrative about the ever-evolving relationship between art and technology. It prompts us to reflect upon the harmonious coexistence of these seemingly disparate worlds, and their collective potential to shape our perspectives.

As we find ourselves at the confluence of time-honored artistry and the digital revolution, The Wrong Biennale serves as a poignant reminder: while the methods and mediums of art might transform, its inherent purpose—to enlighten, connect, and inspire—endures eternally.
Linda Loh - The Wrong Television - The Wrong Biennale 2023/24