Scorpion Dagger: Bridging the Gap between Old Masters and Modern Culture
James Kerr, mastermind behind Scorpion Dagger, mixes cut outs from various paintings from art history to create a world where he comments on our modern age, and pop culture in general.
From Montreal to the Digital Canvas: The Genesis of Scorpion Dagger
A Canadian artist born in Montreal in 1978, on March 23rd, 2021, his first minted work, "EDM Everywhere" found its place on Zora, marking his debut into the broader digital art scene.
Scorpion Dagger's artistic journey, however, had begun much earlier. As he puts it, "I've been making art, mostly collage, for as long as I can remember."
His first significant step into the world of art happened in 2004, when he and a diverse group of thirteen friends founded an art collective called Young Peoples Foundation.
The artistic collective's activities to follow were remarkable, with several international exhibitions, 3 published books, and projects like 24 Hour Art Party, where all the artists made a work of art every 24 minutes for 24 hours.
In this artistic ferment Scorpion Dagger was born, first as a joke between friends (after they had refused to give him the nickname this was the one he chose) then began the animation project on Tumblr in 2012, making sense to keep the joke alive.
When he started producing GIFs under the name Scorpion Dagger he did it with a very specific goal, one per day for a whole year, so finding inspiration for the animations was often difficult.
So to keep his promise, the solution was self-referencing.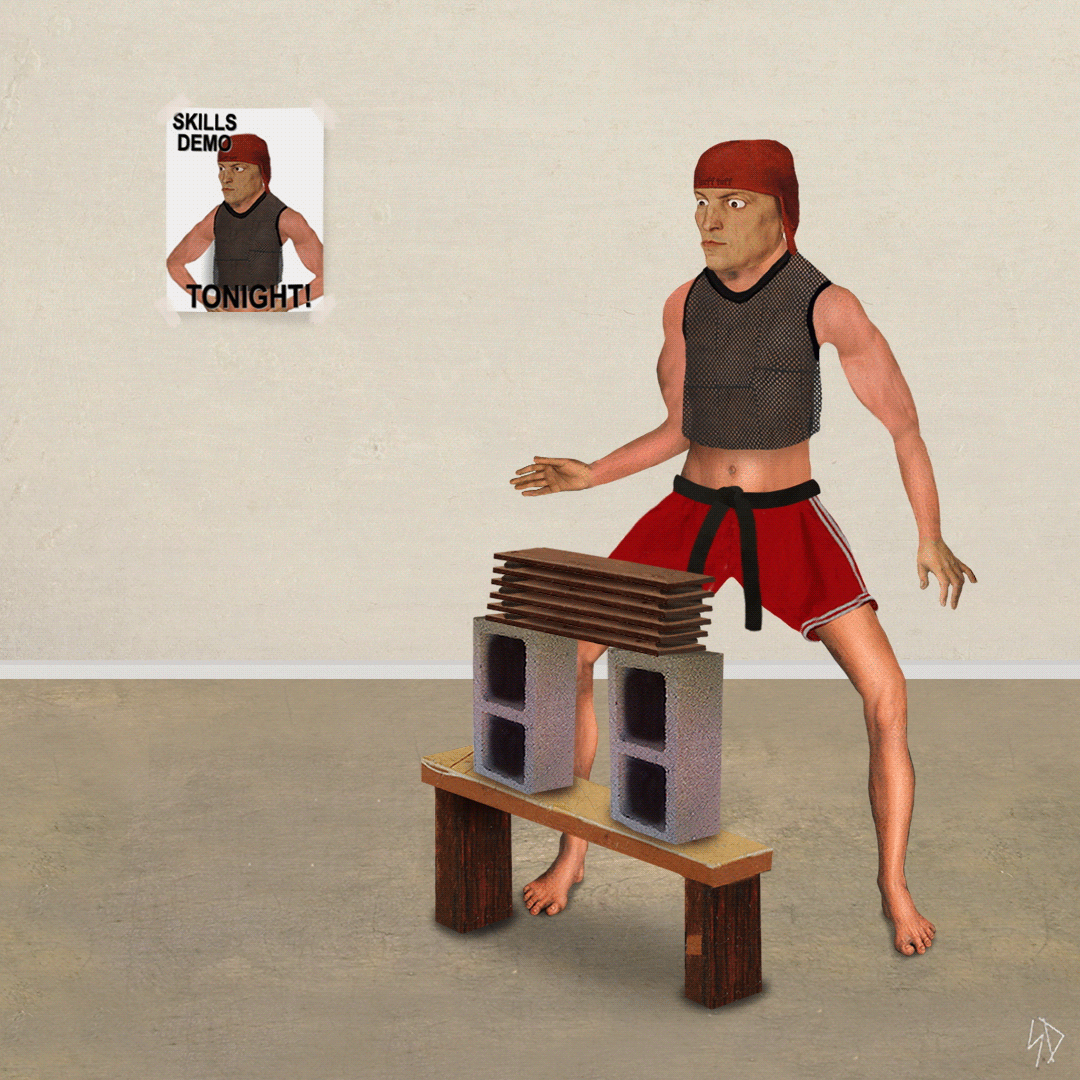 Unveiling Aesthetic Layers: The Creative Vision of Scorpion Dagger
Every detail captured in the daily life of James Kerr resurfaces during his artistic production, then his collages, which initially almost exclusively reworked Renaissance works, began to come alive in an unexpected way.
From here comes the ironic style and the infinite facets that the artist manages to convey in his work. A keen observer of modern times that through the dichotomies that he manages to create with his work, leaves us glued to his pieces.
ScorpionDagger in 2016 embarked on a colossal work, giving life to a book entitled "Do You Like Relaxing?". The project as it was designed saw the possibility of fruition of the book, not only in its physical form, but also in augmented reality. The development of technology was still in its infancy and the cost prohibitive, so thanks to Crowdfunding and a considerable effort by the publisher Anteism, the production of the book was successful, seeing the publication in February 2016.
Scorpion Dagger's incredible career sees illustrious collaborations that showcase his versatility as a creator such as Gucci, Adult Swim, and the New York Times and many more.
He also animated Jim Jarmusch's documentary about Iggy and the Stooges. "The Stooges meant so much to me growing up, and, of course, I love Jarmusch's films, so getting that email asking me whether I'd be interested in the gig had me fall off my chair".
"Godzilla" represents Scorpion Dagger's addition to the Fakewhale Vault, followed by other exceptional Fakewhale Cross releases including "The Pond" and "Dumpster Fire" as part of Tezos Posse on Nifty Gateway (December 2022). 
Exploring Modernity through Classic Art: Scorpion Dagger's Philosophy
In the philosophy of Scorpion Dagger, "the work is about exploring modern life through the lens of classic art." This juxtaposition underscores an intriguing paradox — despite our significant technological and societal advancements, the fundamental essence of our humanity remains largely unchanged.
Taking center stage within the ever-evolving canvas of contemporary art, Scorpion Dagger's creative output serves as a constant reminder of our realities, mirroring not just the world around us but also our ingrained perceptions and assumptions.
Amidst a society that is excessively obsessed with the notion of progress, Scorpion Dagger's work stands as a profound reflection, challenging us to question our understanding of advancement itself.