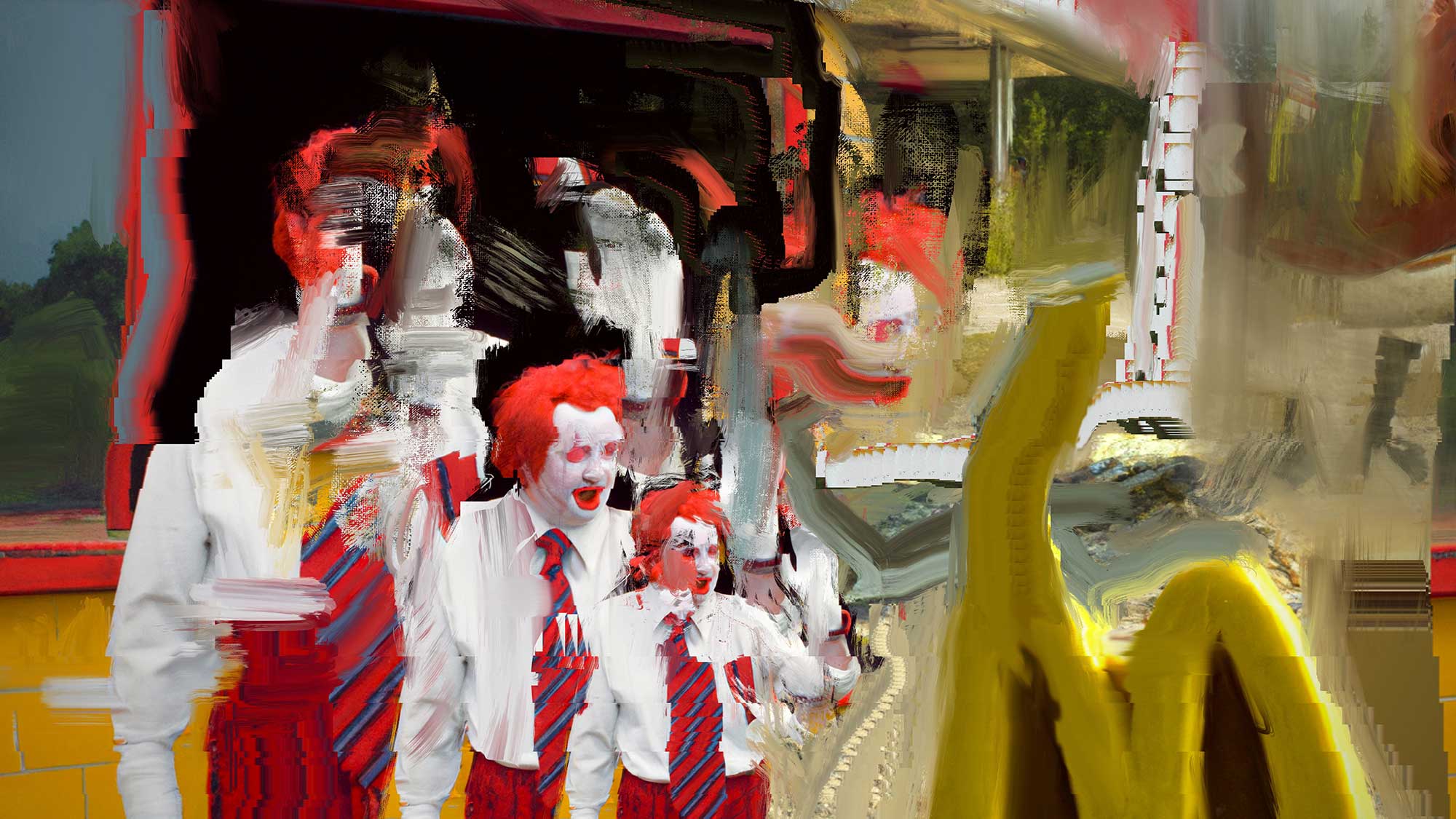 Norman Harman: The Art of Digital Fragments and Analog Realities
Norman Harman is a visual artist from Scotland who blends the aesthetics of figurative, landscape and surrealist painting to achieve metaphysical compositions that transcend conventional boundaries, redefine perspectives, and ignite contemplation.
Norman Harman 's Artistic Journey
A graduate of the Edinburgh College of Art (1997-2001), his exceptional skills in painting won him the prestigious RSA Latimer Painting Prize. Despite years spent honing his craft in Northern England, the allure of his roots brought him back to Edinburgh in 2015. Today, his works are showcased across the UK and Europe, and he holds an influential presence in the revered art collective Ltd Ink Corporation
His artistic journey took a significant turn on July 13th, 2019, when he minted his inaugural work, "Android Plaza – Double Presenter". This marked the inception of a captivating series of glitched portraits, where the digital information fragments and reshapes into a compelling dance of abstraction and figuration.
Since then, relevant digital exhibitions of his include:
2019 Digital Art Group Exhibition Art, Berlin
2019 The Pentland Experiment, LTD INK CORPORATION, Edinburgh,
2020 Message From The Skies, collaboration with Irvine Welsh, Edinburgh
2021 Future Art (Group Show), Sydney
2021 From Tulip to Crypto Daisy (Group Show) L'Avant Galerie Vossen, Paris
2022 Proof of People (Group Show), London
2022 Crypto Art Begins (Book Publication)
2022 Crossing Over (Group Show), Seattle NFT Museum
2022 CoinDesk Most Influential 
Decoding the Dualities: The Multifaceted Expression of Norman Harman's Art"
Norman Harman 's body of work is characterized by his unique use of minimalist palettes set against decaying urban settings. His over-painted digital works reveal the beauty of lost transmissions and corrupted imagery at the intersection of utopia and dystopia found within the futuristic landscapes of works like "Cartoon Cavalcade".
Norman Harman 's distinctive style, characterized by his usage of pixels and pulled paint, finds echoes in Richter's oeuvre, while his distorted figurations channel the essence of Francis Bacon and Frank Auerbach — influences, refracted through the prism of AI and generative art, facets he continues to explore and experiment with.
Norman's style crosses multiple genres, painting, photography and now the use of AI as a tool; there is a constant within the work and that is the relationship between the abstract and the figurative. In particular, he tends to deconstruct the composition and rebuild it with brush marks and geometric forms with the aim of creating tension between the image and the viewer.
The result is a binary practice, exploring the discordant interference between the physicality of paint and the ethereal realm of digital, where every layer of corruption becomes a suggestion, a nudge towards a space that hovers between the familiar and the obscure, abstraction and figuration.
These layered narratives often mirror current social and cultural landscapes, echoing most resoundingly in works like "Android Plaza – Electronic Host II".
Similarly, The Pentland Experiment series explores the detrimental impact of capitalism on his very own hometown, Edinburgh, which he depicts through highly staged, dystopian compositions drawn from his extensive collection of photography, found imagery, and TV stills.
The Beauty of Imperfection: Embracing Dichotomies in Norman Harman 's Visual Language
In his exploration of the dichotomies of analog and digital, reality and abstraction, Norman Harman constructs a narrative of resilience amidst societal transformations, continually challenging the viewer's perceptions and offering a novel lens through which to view our everyday reality.
His journey reminds us that art is not merely a mirror reflecting society, but also a powerful tool for revealing, examining, and even challenging the unseen complexities of our world.