Etiene Crauss: Art as a Mirror of Human Experience
Etiene Crauss: A Journey through the Human Experience
Etiene Crauss, a Brazilian artist, navigates the labyrinth of human emotions in his compelling artwork, engaging with a wide array of themes, from passion and wrath to desolation and loneliness.
With a natural inclination towards the arts, Etiene began his career as a graphic designer, spending five years working on a variety of projects, before eventually growing disenchanted with the routine nature of the work.
It wasn't until 2020 that this routine came to an end: a year that proved to be a turning point for Etiene's art career, when he made the bold decision to focus solely on his personal art. After consistently sharing his creations on Twitter, he quickly gained attention and established a thriving community of supporters and fellow artists.
In particular, the relationships Etiene has established with artists in the NFT community have been a key part of his journey and continue to drive his creativity to this day, such as the one with the talented artist FEWOCiOUS who provided guidance and support in introducing him to the world of NFTs and ultimately making a living from his art.
During the same year, Etiene minted his first work on Open Sea "For A Minute There, I Lost Myself," officially marking the beginning of this new chapter.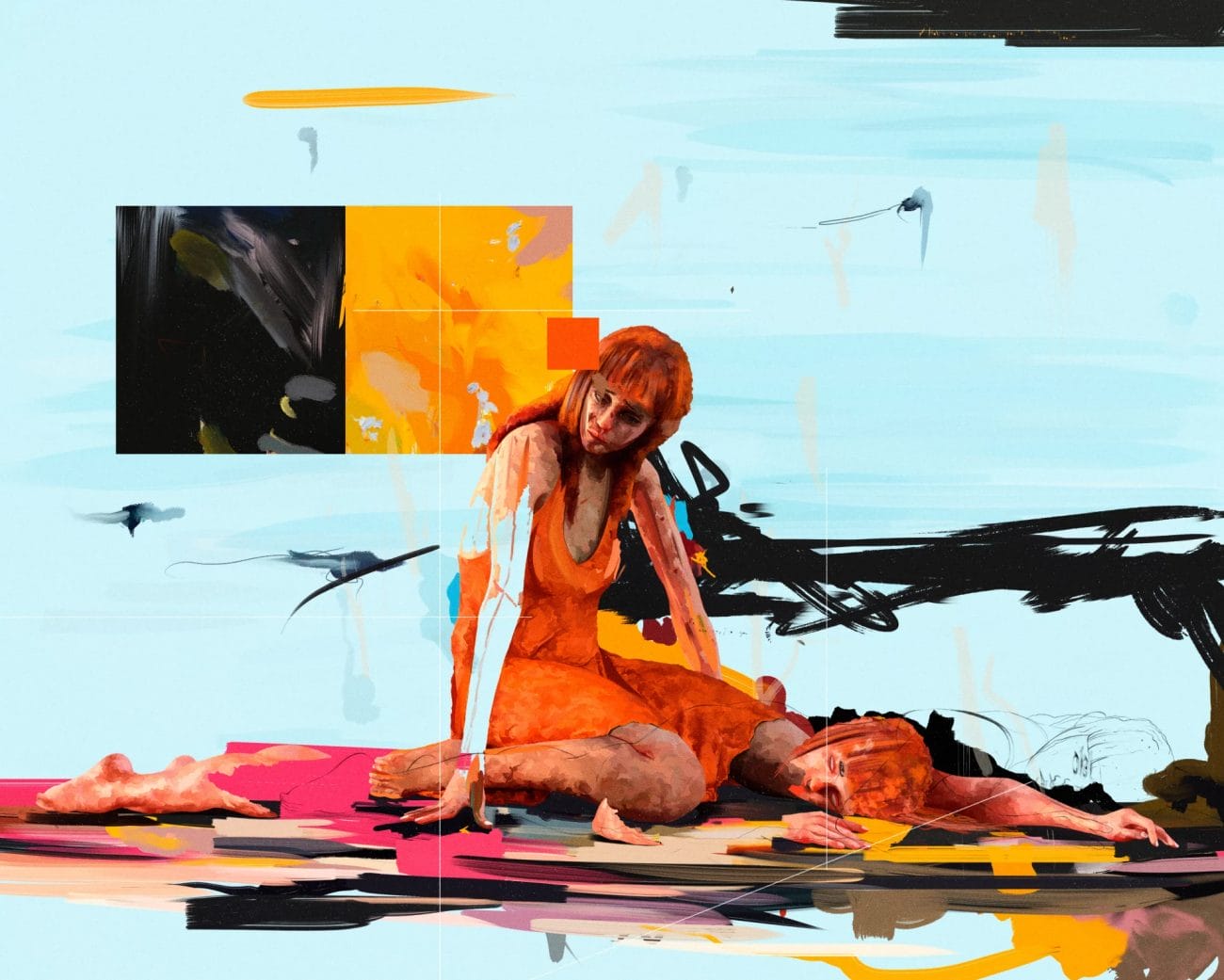 Compositional Mastery: The Art & Style of Etiene Crauss
Etiene Crauss primarily works within the digital art realm, using his refined compositional skills and carefully chosen color palettes to bring his subjects to life within a style that has evolved over time, becoming a distinct and recognizable hallmark.
This distinct style is evident in pieces such as "Reflection Taunts My Empty Soul," where he captures the conflict and frustration that can arise from self-reflection, but also in iconic works like "How To Disappear Completely," where Etiene skillfully portrays the essence of melancholy and loneliness through a subject in turmoil, dropping a flower—a symbol of impermanence and fleeting beauty.
Drawing from his background in graphic design, Etiene also incorporates elements of typography and geometric shapes into his work, adding another layer of depth and complexity that seamlessly interact with the human figures, further emphasizing the emotions and themes he seeks to convey. 
Vulnerability and Connection: Etiene's Art at its core
This exploration of human emotions continues with "Love & Death" and "Please, complete me." where the former depicts two beings connected through love, even in the face of death, their bond unbroken by the coldness and emptiness surrounding them; and the latter piece, the desire for completion through the love of another being, almost as if a silent plea for help in ending internal conflict.
The palpable vulnerability in Etiene's pieces adds an element of authenticity and connection that many viewers can identify with, serving as an invitation for viewers to embark on their own emotional journey and find solace and connection within.
Motivated by the dynamic nature of digital art and technology, Etiene is committed to continue experimenting with innovative techniques and tools to further enhance his artistic expression, while continuing to exemplify the power of vulnerability, introspection, and connection in art.