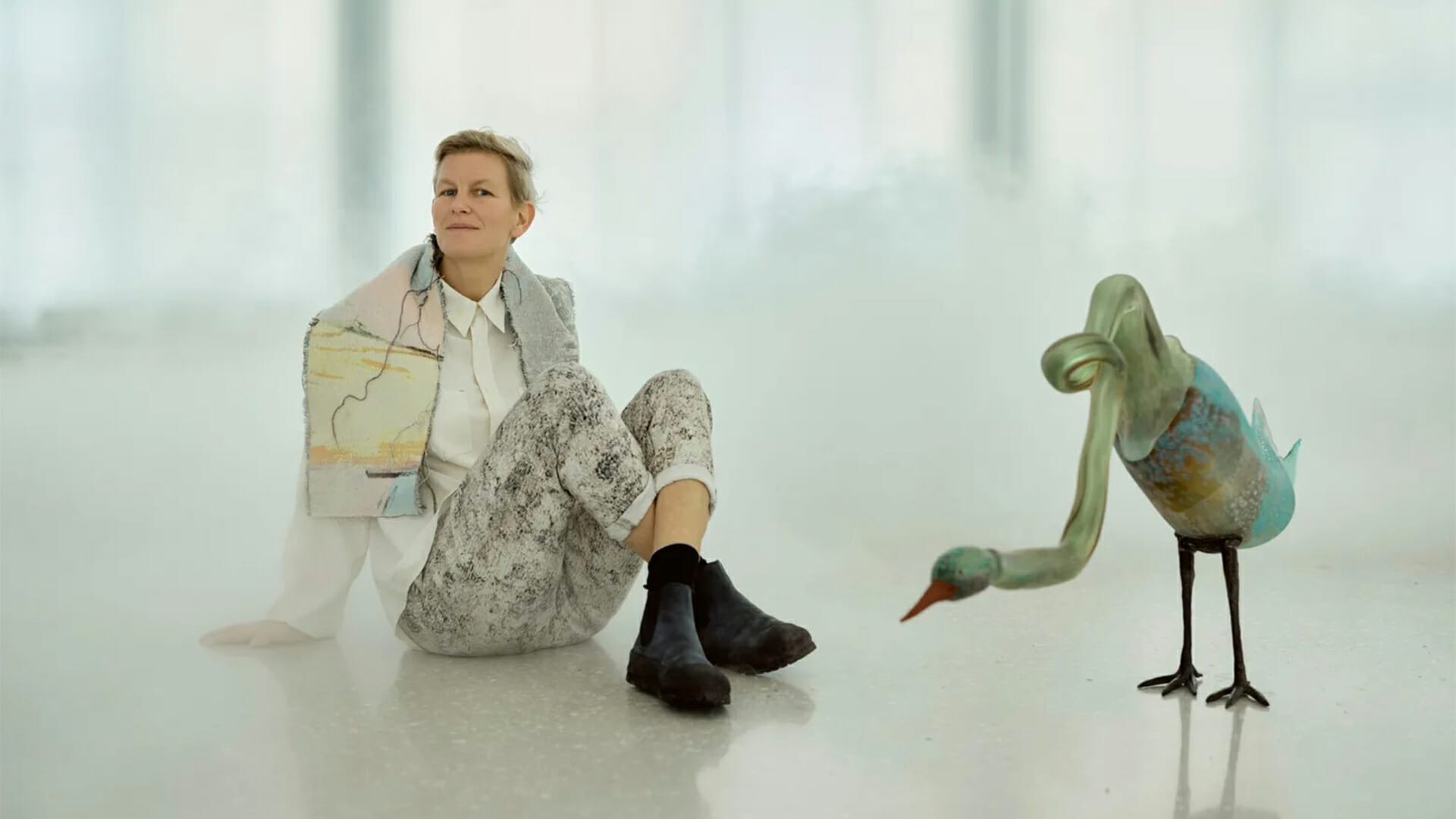 Laure Prouvost: An Odyssey Through the Concrete and the Illusory
Laure Prouvost is renowned for her multidisciplinary body of work, which spans an array of media—from video and immersive installations to painting and performance art. Her creations captivate audiences with their sensory richness, smartly intertwining language, humor, and narrative to offer surprising and engaging experiences.


Prouvost frequently employs voice and sound not merely as auxiliary elements to the visuals but as critical mechanisms for establishing both emotional and intellectual connections with the viewer. Her art delves into themes ranging from memory and identity to communication and perception, blurring the lines between reality and fiction in a way that challenges conventional assumptions.


A standout feature of Prouvost's work is the prominence of the voice, which serves not only as a narrative tool but acts as a catalyst infusing intensity and engagement into her installations. Especially evident in her video works like "Swallow" and "We Know We Are Just Pixels," the vocal component becomes a crucial element that guides and manipulates the viewer's emotions, turning the experience into a journey that is as emotional and reflective as it is visual.


One recurring motif in Prouvost's oeuvre is the character of the "grandfather," whom she uses as a narrative fulcrum to explore intricate stories. Through installations that recount tales of ancestors and places, such as her Turner Prize-winning project "Wantee," she examines not only her own lineage and history but also the ever-changing dynamics of memory and storytelling.
Navigating Memory and Reality: A Deep Dive into Laure Prouvost's "Wantee" and Her Influence in Contemporary French Art
In the award-winning "Wantee," Prouvost crafts the narrative of an imaginary grandfather, a friend of renowned Dadaist artist Kurt Schwitters. This fictive patriarch is a failed conceptual artist residing in a dilapidated hut in England's Lake District. His life is a melange of muddled memories, found objects, and unfulfilled dreams.

Prouvost's installation invites the visitor on a multisensory journey through the grandfather's mind. Videos show him narrating his life story, while the soundscape is dotted with audio elements that create a dreamlike atmosphere. The installation is further enriched with found objects like furniture, books, and photos, all contributing to a surreal ambiance. 

"Wantee" provocatively explores themes of memory and narrative, suggesting that memory is a mutable, subjective process influenced by both personal and cultural factors.

Prouvost invites viewers to reflect on their own memories and histories, positing that reality is multifaceted and that we all harbor our unique versions of events. "Wantee" serves as a reflective and conversational piece, offering viewers an immersive and engaging experience.

Representing France at the 58th Venice Biennale, Prouvost further solidified her status as one of the most influential female artists in the contemporary French art scene. In a conversation with curator Martha Kirszenbaum, the artist emphasized how each of her works serves as a logical extension of the last, both in form and intent. Her participation in the Biennale was not an isolated event but rather another milestone in her ongoing artistic journey, showcasing how each project is intrinsically linked to its predecessor and serves as a prelude to future endeavors.
The Power and Complexity of Language
For Prouvost, the instrument of language serves as a channel to evoke complex emotions, challenge conventions, and convey a wide range of symbolism. She is notably recognized for her use of hybrid language—a blend of English and French often termed "Franglish"—that compels the viewer to focus on the details and contemplate the broader meaning of her work.

Prouvost also plays with spelling and syntax in ways that diverge from conventional norms. Many of her works begin with the word "IDEALLY," a term that invites the audience to explore new ways of thinking and perceiving the world. It is not merely an expression of optimism but an active invitation to consider how both art and life itself could be improved or transformed.


In "Parle Ment," Prouvost employs a combination of media, from flat-screen monitors displaying fragmented phrases and video clips to abstract images. These visual elements oscillate between the surreal and the mundane, simultaneously pushing and confounding the viewer in decoding her messages. The metallic bars that serve as bodies are positioned in various stances—sometimes erect, sometimes crouched, some appearing to be in motion—evoking human gestures while remaining inanimate and mechanical.


The use of digital screens as heads adds a disturbing and contemporary touch. While the sculptures are physically present, the screens suggest a form of detachment or fragmentation emblematic of modern digital life. The screens flash with a mixture of text and images, some clear and others abstract, triggering a complex array of emotions that engage the viewer on multiple levels.


The title "Parle Ment" is a play on words. 'Parlement' in French means 'Parliament,' but it can also be read as 'Parle' (speak) and 'Ment' (lie).
Ambiguity, Light, and Dialogue: Laure Prouvost as a Visual Philosopher
The title "Parle Ment" is a play on words. 'Parlement' in French means 'Parliament,' but it can also be read as 'Parle' (speak) and 'Ment' (lie). This linguistic ambiguity reflects the theme of the series, highlighting the inherent contrasts and contradictions in communication.


Lighting is an element that adds another layer of complexity, enhancing the ethereal quality of her installations. Typically set up in dimly lit spaces, the light emanating from the screens casts shadows that dance on the walls, encouraging viewers to move around the sculptures and observe them from different angles.


Prouvost's "Parle Ment" series serves as a mirror to the complexities of modern life, fraught with contradictions and ambiguities yet stunningly beautiful in its complexity. She pushes viewers to question the norms that govern our understanding of art and communication, transforming passive observers into active participants in a broader cultural dialogue.


Laure Prouvost indisputably establishes herself as one of the most talented and recognized female artists in the contemporary French art landscape. Her work is not merely an aesthetic manifestation but rather a form of intellectual inquiry that tackles critical issues of our time—from the fragmentation of communication to the ambiguity of language, from the intrusive role of technology to the complexities of individual and collective identity.


Her multidisciplinary approach reveals a depth of thought that goes well beyond the creative act; it's an open dialogue with the viewer, an invitation to explore and question one's preconceptions and perceptual boundaries. This ability to generate such depth of engagement makes her not just an artist but a visual philosopher capable of probing the complexities of the human condition through an aesthetic language that is both accessible and richly layered. Prouvost's work serves as a catalyst for such conversations, offering spaces where ambiguity is not merely accepted but celebrated as an essential component of human understanding.
Laure Prouvost (French, b.1978) is a multimedia artist who examines our relationship with the past using modern technology. She studied film at Central Saint Martins in London between 1999 and 2002, and later attended Goldsmiths College.
During her early years in London, she worked as an assistant to John Latham (British, 1921–2006), a Conceptual artist well known for examining the intersections between art and science.

Prouvost, whose art combines collage, installation, and experimental filmmaking, considers Latham to be her "conceptual grandfather."

Through her work, the artist seeks to destabilize the relationship between language and understanding, using familiar narratives in her films to engage the viewer and then subverting expectations by incorporating other, irrelevant stories into a surrealistic visual landscape.

Prouvost, who is represented by MOTINTERNATIONAL, was awarded the Max Mara Prize for Women in 2011. In 2013, she received the Turner Prize for her work Wantee, which was co-commissioned by Grizedale Arts and the Tate Britain. The film tells the fictional story of the artist's grandfather, a Conceptual artist and close friend of Kurt Schwitters (German, 1887–1948). 


Laure lives and works in London.