What I Learned by Staging a Pandemic at Sundance
This article provided an opportunity to revisit materials that I haven't viewed in years. Much of the following was a blur when it happened but with proper distance the experience of making such a complicated work has come to inform my artistic practice.
Unleashing a Pandemic 
In 2011, we descended upon Park City, Utah with PANDEMIC 1.0, an immersive experience that combined storytelling, gaming, design, and emergent technology. At the core of the project was an immersive art installation powered by over a million points of data spread across a combination of traditional and non-traditional storytelling devices and outlets. The story and its characters inhabited a mixture of films, comics, books, magazines, a mobile app, a website, 50,000 photographs, 5,000 bottles of water, 50 golden objects, 20 actors, 6 totems and 5 secret locations and 1 limited edition art book. 
From the start the project was constantly wrestling with complexity. When I think about how we successfully pulled it off in two and half months my head begins to hurt. The project in many ways was akin to a storytelling pandemic in the sense that it spread everywhere and was difficult to pin down. It wasn't a traditional story with a beginning, middle and end. Instead it felt like a virus that was mutating.
PANDEMIC 1.0 centered on the outbreak of a mysterious sleep virus at Sundance. Set against a ticking clock, festival-goers were given 120 hours to stop the outbreak. Together those at the festival along with players from around the world, worked to find 50 golden objects hidden throughout Park City. Over 250,000 players worked collaboratively during the festival to halt the spread of the fictional virus by collecting objects and completing survival based tasks. Throughout the experience the game system tracked players' progress and released data driven scenarios that modeled a pandemic through a series of stories. 
Tracking the Origins and Lessons Learned
PANDEMIC 1.0 came from a desire to test elements of a feature script that my writing partner Chuck Wendig and I were working on at the time. Together we had crafted a rich storyworld for the project. We viewed PANDEMIC 1.0 as an excellent way to R&D (research and develop) the material. The more we studied pandemics the more fascinated we became with the narrative potential. Sundance offered an opportunity to simulate elements of the story while at the same time capturing data that we hoped would shed light on players' social interactions. You see Chuck had extensive experience within the role playing game (RPG) community and I had been bitten by the immersive bug after producing my previous feature Head Trauma.
Things began to mutate as we got closer to the premiere at Sundance. The ambition of the project at times made it difficult to contain. Mounting an immersive art installation at a major festival is already a challenge but once you involve emergent storytelling with cutting edge technology and a global base of players there is always a possibility that things may slip out of your control.
In the process of making PANDEMIC 1.0 we learned a number of valuable lessons that we've carried forward and applied to the work that we make to this day. In fact, Chuck wrote a novel entitled Wanderers that was released by Random House's imprint Del Ray. The storyline centers on a virus that has eerie similarities to the Coronavirus Pandemic.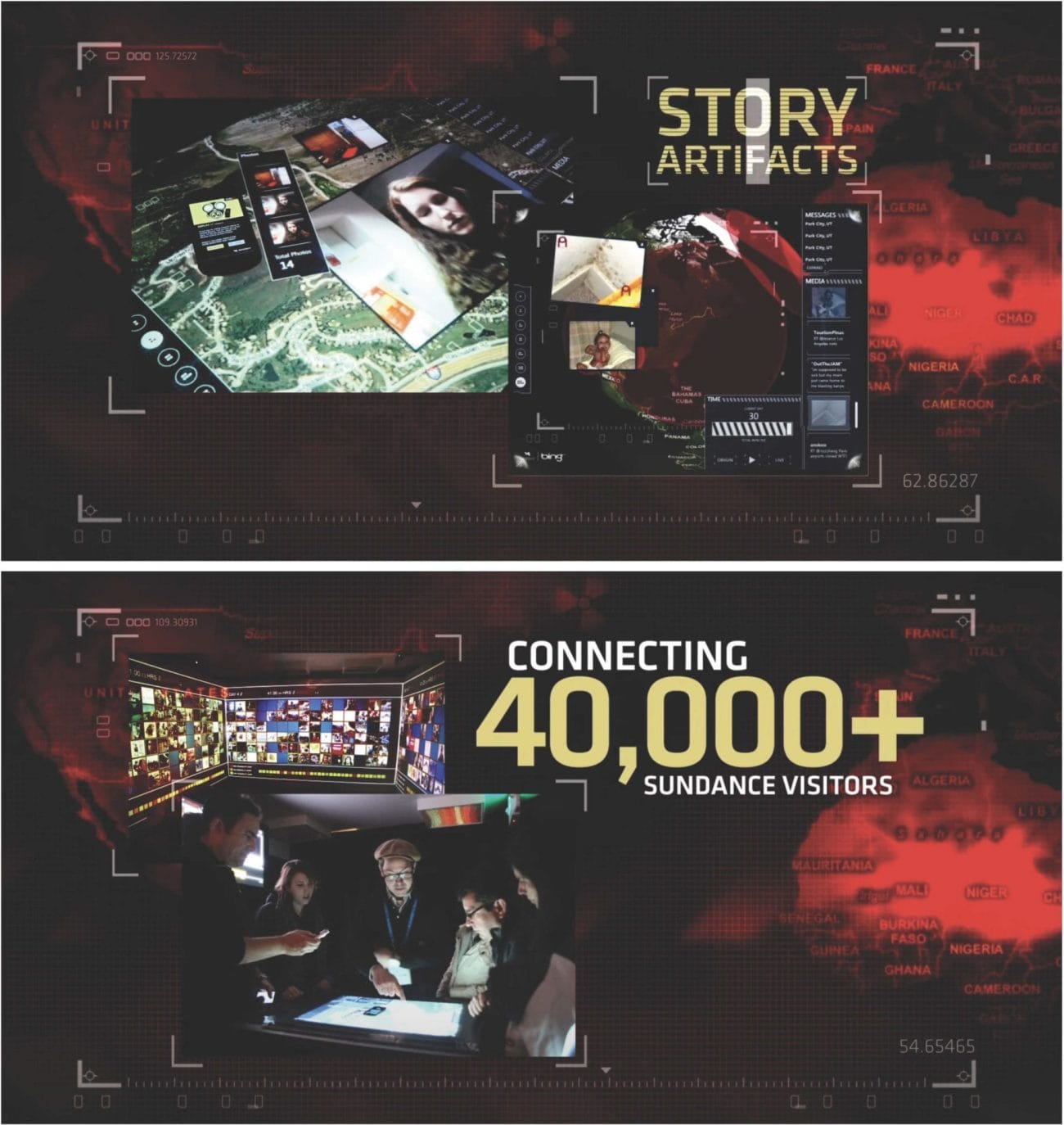 New Forms & Functions of Storytelling
PANDEMIC 1.0 was a "germ game," an experience designed to shift perspective and generate awareness. Bill Gates, who stepped down from Microsoft's board to concentrate on global health and climate change, sees us entering an era of "microbes not missiles." He believes that immersive experiences to train epidemic fighters as well as inform the general public are critical to our survival.
After Sundance the Wellcome Trust which is one of the world's largest health NGO's contacted us. As it turns out they were interested in ways that PANDEMIC 1.0 could be harnessed to help spread public health messaging to younger audiences. In addition, they gave us time to work with scientists to further develop the project. Collectively we wondered if there was a correlation to how things spread socially online versus how a virus spreads in the real world.
The Coronavirus has become the perfect example of a Black Swan event. A series of extreme disruptions that we didn't see coming but in hindsight will be rationalized. When I look back at the experience of making PANDEMIC 1.0 I'm struck by how it influenced my own path as a artist as well as how a fictional work from 12 years ago still has relevance today.
My own practice embraces the notion of exploring new forms and functions of storytelling. This is something that we focus on at Columbia University School of the Arts' Digital Storytelling Lab where I serve as the DSL's founding director. Harnessing storytelling as a tool for healing, learning, mobilization, policy change, and entertainment presents interesting opportunities.
Immersive Storytelling Case Studies & Opportunities
Pandemic 1.0 – a look at the making of the Sundance experience. This case study provides an overview of the experience, shares elements of the production and provides a look at the team behind the project. 
Where There's Smoke – an immersive installation that premiered at the Tribeca Film Festival last year. The installation was a collaboration with my Dad as he was dying from Stage 4 colon cancer.  The project explores two mysterious fires that devastated our family and my Dad's battle with cancer. The inciting incident for the project was a lack of empathy in his care that greatly affected his mental and physical health. Later this year the project will make its way to Columbia University's Medical School as a proof of concept for an empathic healing space that enables patients, loved ones and practitioners to share stories of healing. The project is also being developed as a limited series and YA novel.
Additional Opportunity 
The Digital Storytelling Lab has an ongoing series of virtual gatherings for those interested in exploring new forms and functions of storytelling.