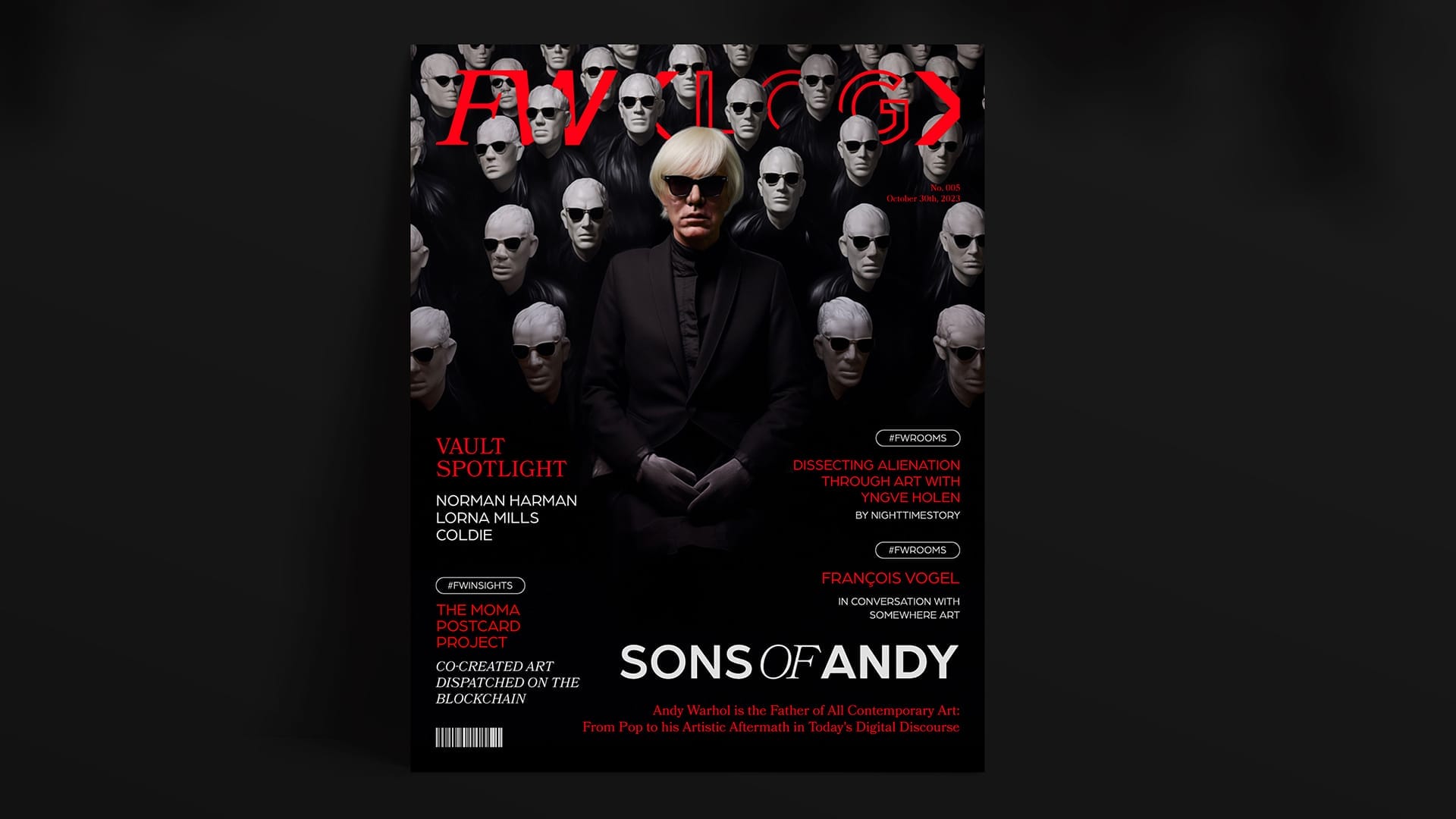 FW LOG: Editorial Feed No. 005
Introducing the FW Editorial Feed No. 005, a curated edition celebrating the profound Andy Warhol effect, a precursor to the eclectic nature of today's digital art scene. At the heart of the cover story's narrative pulsates a resonant proposition: in the age of digital creativity, we are all sons of Andy — A notion that signifies a collective inheritance of Warhol's pioneering vision.
Complementing this exploration, we then turn to a project truly highlighting the potential of blockchain as a medium for collaborative creation, "MoMA Postcard". Following, is a spotlight on the Fakewhale Vault works of artists Norman Harman, Lorna Mills, and Coldie. But also the discussions in the FW ROOMS with the latest publications from Nighttimestory and Somewhere Art.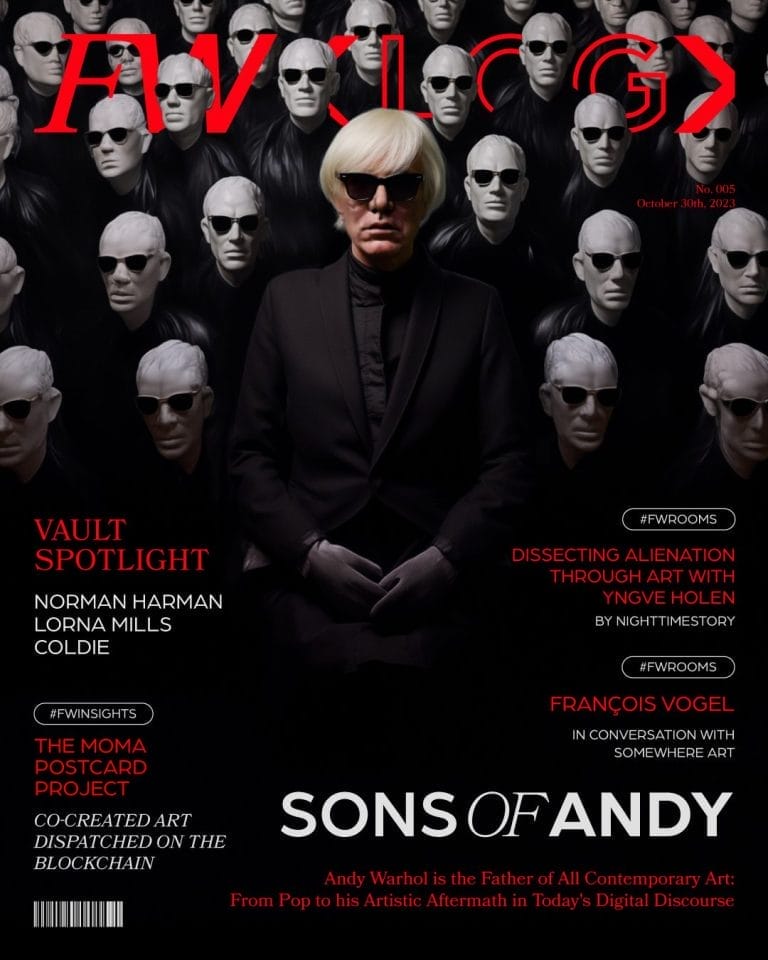 The core of digital art's evolution lies within the blockchain—a technology that has dismantled traditional gatekeepers, paving the way for artists from all walks of life to create and monetize their art. This shift towards a decentralized, inclusive art world resonates with Warhol's early visions of universal art accessibility.
Warhol, a visionary, didn't merely forecast the future of art; he crafted the paradigm that has engendered today's digital art ecosystem. Our latest Fakewhale Insights publication delineates these intertwining narratives, tracing a direct lineage from Warhol's innovative ethos in the 20th century to the burgeoning digital art scene of the 21st century.
Delving further into the blockchain narrative, we spotlight the MoMA Postcard project—an initiative that showcases the expansive potential of blockchain for global collaborations. Amidst a contemporary art scene seamlessly melding with the digital domain, the Museum of Modern Art (MoMA) unveiled this groundbreaking project. Each digital postcard, akin to a chain letter, evolves collaboratively, person by person, each stamp a testament to the boundless creativity awaiting in the web3 technological landscape.
In this digital epoch, art and technology intertwine, forging a new lexicon of creative expression. This fusion has transitioned creation from a solitary endeavor to a collective voyage, embodying diverse narratives and communal aspirations. The MoMA Postcard project embodies this narrative, exemplifying the essence of global creative collaboration in the digital age.
This week's Fakewhale Vault Spotlight features the vault works of art of Norman Harman, Lorna Mills, and Coldie.
Android Plaza – Faux Orator L by Norman Harman

"Android Plaza – Faux Orator L Dimensions: 7500px X 5000px I JPG I Circa 2023 Harman's Android Plaza is a collection of digital artworks using a specially formulated algorithm. Within the corruption of the digital image, there is a breaking up of the information, which leaves the viewer to interpret the space between abstraction and figuration. He then digitally paints elements of the composition referencing Richter whilst the mangled figuration echoes Francis Bacon and Frank Auerbach."

Ancient Future by Coldie

"As time goes by, do we pay attention to what has come before us, or do we just wait for the cycle to complete, too busy running around and filling our time with experiences to make sense of this existence? Wear anaglyph (red/blue) 3D glasses to see artwork with stereoscopic depth. Creation by Coldie for FakeWhale project."

As part of FW ROOMS' ongoing discussions, we spotlight two insightful articles. First, we join Nighttimestory with a focus on body and alienation in the modern world with artist Yngve Holen, followed by Somewhere Art, in conversation with François Vogel.
In the realm of contemporary art, the human figure often assumes a pivotal stance. However, in the oeuvre of Norwegian-German artist Yngve Holen, the human form seems conspicuously absent. This absence, merely superficial, as his art delves deep into our rapport with technology, thereby reshaping our perception of the body. Yngve Holen, despite not depicting the human figure directly, adopts a unique approach to explore the notion of body in the modern age, urging reflection on our physical existence amidst the spheres of consumption, technology, and industrialization.
Somewhere Art, in conversation with François Vogel.
In their latest FW ROOMS publication, Somewhere Art interviews French artist François Vogel about his thought-provoking and surreal works. The publication takes us inside Vogel's world where he bends the boundaries of reality through his camera. From his studies in science, to his subsequent journey into the creative field, this exclusive interview explores his unique artistic path, inspirations, and perspective on the art world and NFT as a medium.